In an exhilarating clash that took place at Palaflorio Bari, defending champions Italy faced off against a formidable Netherlands team. The showdown did not disappoint, with Italy narrowly edging out the Netherlands 3-2 (19-25, 25-17, 25-16, 23-25, 15-12), ensuring their spot in the EuroVolley semifinals.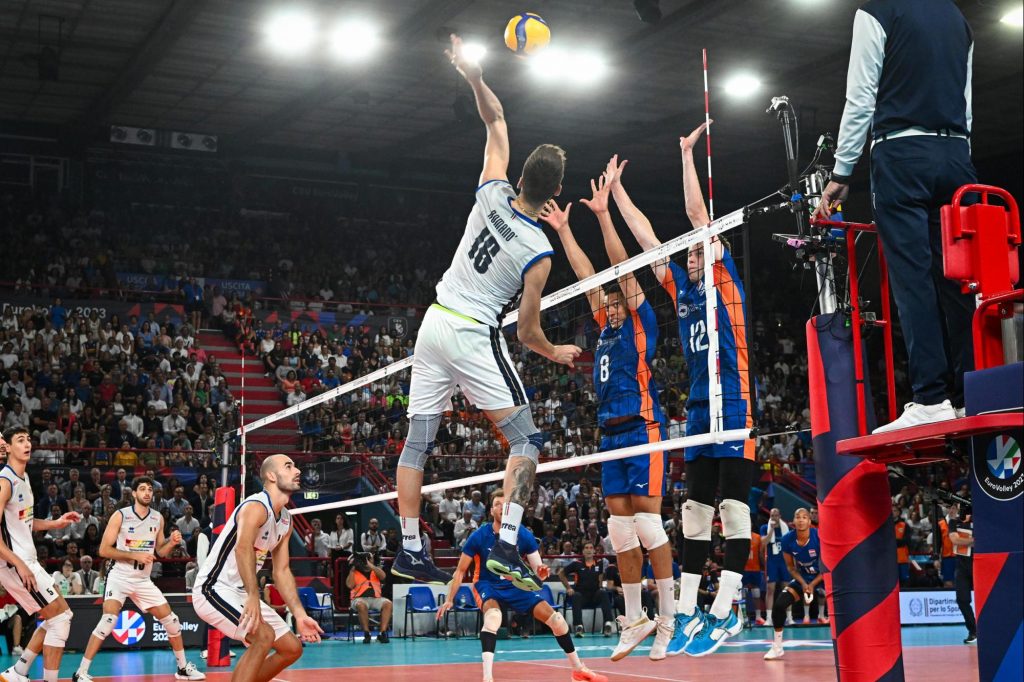 Italy and the Netherlands, both titans of European Championship volleyball, delivered a game of intense proportions. Although Italy faced the early loss of Roberto Russo due to injury, the squad demonstrated resilience, making a strong comeback. The Dutch team, on the other hand, heavily relied on the incredible performance of Nimir Abdel Aziz, who was nothing short of outstanding.
Nimir Abdel-Aziz was the star player of the game, notching up a whopping 31 points, with a 58% success rate in attacks. Italy's Alessandro Michieletto and Yuri Romano also showcased impressive prowess, contributing 22 and 21 points respectively.
With this significant win, Italy proudly marks their sixteenth entry into the European Championship's top four bracket. Fans can now eagerly await Italy's next game, a pivotal semifinal match against France at PalaLottomatica in Rome on Thursday, 14th September. In another anticipated face-off, Poland, fresh from their 3-1 victory over Serbia, will compete against Slovenia in the second semifinal.
Semifinals in Rome, September 14
Poland vs. Slovenia
Italy vs. France
Quarterfinals in Varna, September 11, 2023
Slovenia vs. Ukraine
France vs. Romania
Quarterfinals in Bari, September 12, 2023
Poland vs. Serbia 3-1 (26-28, 25-15, 36-34, 25-17)
Italy vs Netherlands 3-2 (19-25, 25-17, 25-16, 23-25, 15-12)
Round of 16 in Bari, Italy,
September 9, 2023
Italy vs. North Macedonia 3-0 (25-20, 25-12, 25-15)
Netherlands vs. Germany 3-0 (25-20, 25-23, 22-25, 18-25, 15-12)
September 10, 2023
Poland vs. Belgium 3-1 (25-16, 25-17, 23-25, 25-22)
Serbia vs. Czech Republic 3-0 (25-21, 26-24, 25-21)
Round of 16 in Varna,
September 8, 2023
Croatia vs. Romania 2-3 (17-25, 20-25, 25-17, 28-26, 12-15)
France vs. Bulgaria 3-0 (25-21, 25-21, 25-15)
September 9, 2023
Slovenia vs. Turkiye 3-2 (20-25, 22-25, 25-21, 25-23, 15-13)
Portugal vs. Ukraine 0-3 (20-25, 19-25, 22-25)