BARI, ITALY – Poland's dominant performance over Belgium in the Round of 16 culminated in a 3-1 victory (25-16, 25-17, 23-25, 25-22), securing their spot in the quarterfinals against Serbia in the European Championship.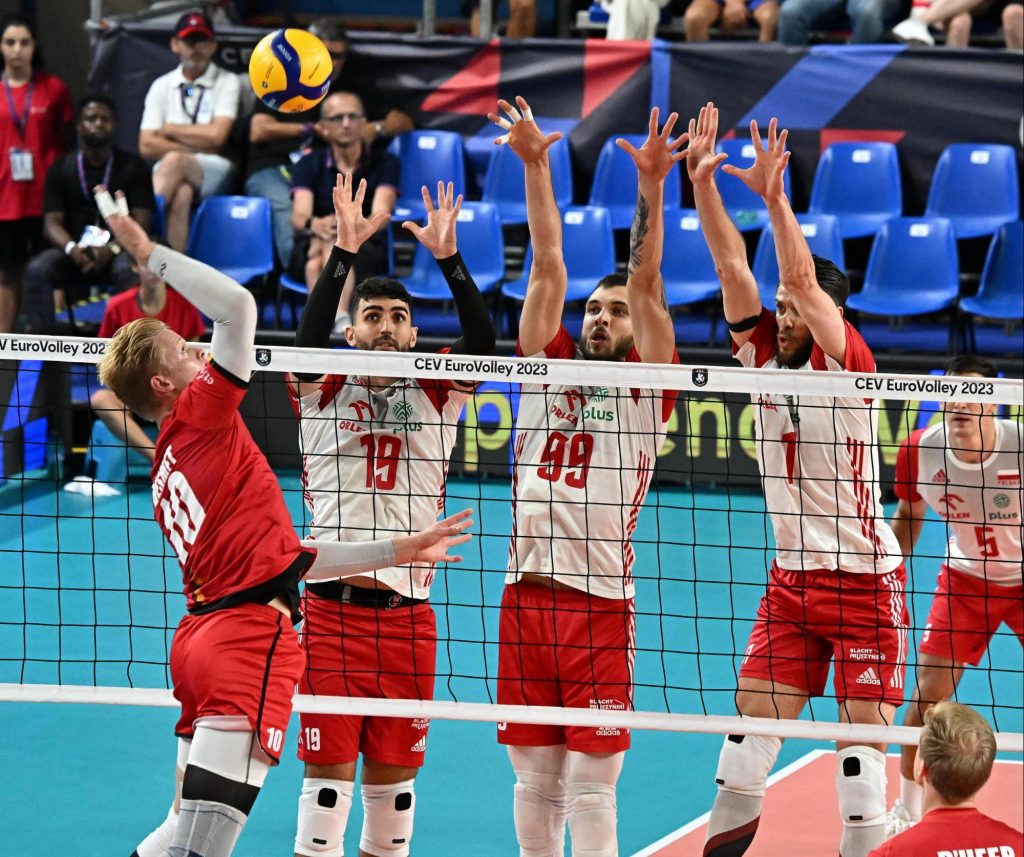 Poland's impeccable blocking skills were on full display during the initial sets (11 block points in 1st two sets), offering Belgium a masterclass in volleyball. This dominance saw them cruise through the first two sets with scores of 25-16 and 25-17.
However, the third set brought a shift in momentum. Poland, saw a dip in their quality, while Belgium capitalized, resulting in a tight 25-23 victory for the Belgians.
The fourth set was tense with both teams showcasing their skill and determination. It was a seesaw battle with the score tied on multiple occasions. But the Polish team's resilience, and their signature blocks (5 block points), saw them edge out the Belgians 25-22. Aleksander Sliwka and Łukasz Kaczmarek led the scoring for Poland with 16 points each, while Norbert Huber contributed 12 points. On the Belgian side, Mathijs Desmet topped the list with 15 points, closely followed by Ferre Reggers who netted 14 points.
The match concluded with Poland winning 3 sets to 1, heralding their progression to the next stage. The Polish squad, under the guidance of Nikola Grbic, now gears up to face Serbia in what promises to be a gripping quarterfinal clash.
Quarterfinals in Varna, September 11, 2023
Slovenia vs. Ukraine
France vs. Romania
Quarterfinals in Bari, September 12, 2023
Poland vs. Serbia
Italy vs Netherlands
Round of 16 in Bari, Italy,
September 9, 2023
Italy vs. North Macedonia 3-0 (25-20, 25-12, 25-15)
Netherlands vs. Germany 3-0 (25-20, 25-23, 22-25, 18-25, 15-12)
September 10, 2023
Poland vs. Belgium 3-1 (25-16, 25-17, 23-25, 25-22)
Serbia vs. Czech Republic 3-0 (25-21, 26-24, 25-21)
Round of 16 in Varna,
September 8, 2023
Croatia vs. Romania 2-3 (17-25, 20-25, 25-17, 28-26, 12-15)
France vs. Bulgaria 3-0 (25-21, 25-21, 25-15)
September 9, 2023
Slovenia vs. Turkiye 3-2 (20-25, 22-25, 25-21, 25-23, 15-13)
Portugal vs. Ukraine 0-3 (20-25, 19-25, 22-25)