Sesi-SP beat Sada Cruzeiro in the big match and maintained their unbeaten record in the 2021/22 Brazilian Men's Volleyball Championship.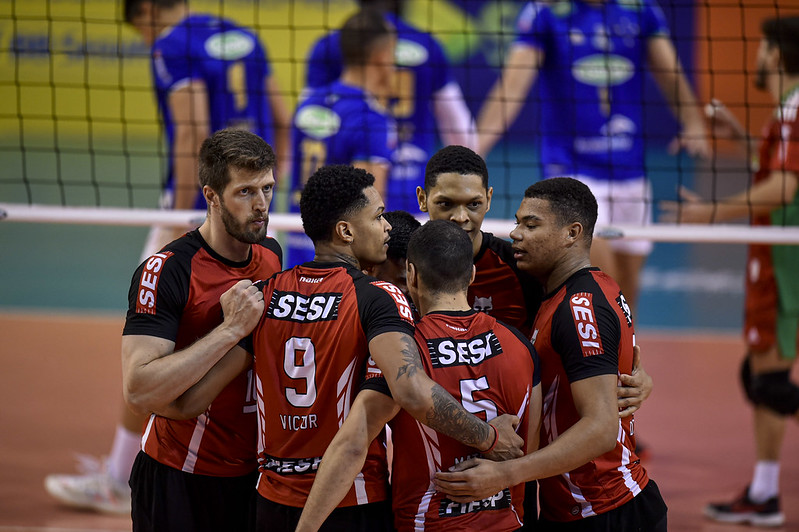 The home side of Cruzeiro and Sesi faced each other in Round 6 of the 2021/22 Men's Superliga in the match worth maintaining the invincibility in the competition. After two long and balanced sets (of four in total), tensions on the court, and many requested challenges, the team commanded by Anderson Rodrigues reached the sixth win in as many games in Superliga, while Cruzeiro are at 5-1. The 19-year-old opposite hitter Darlan Souza was the standout for Sesi with 27 points. Vinicius Souza and Éder Carbonera set up four blocks apiece.
Even though they remained unbeaten, Sesi don't lead the table but Fiat/Gerdau/Minas do. The vice-champions are also perfect and have one point more than Sesi (18 to 17) after defeating Brasília Vôlei 3-1 (22-25, 25-22, 25-22, 25-15), with 24 points from Leandro Vissotto and 91% reception (34 digs, two errors, 59% excellent) from Henrique Honorato.
After three straight defeats, Vôlei Funvic Natal were victorious. The titleholders took an away win against Azulim/Gabarito/Uberlândia with a score of 3-0 to which they were led by Gabriel Santos (27 points) and Thales Hoss (90% reception; 10 digs, 70% excellent).
2021/22 Men's Superliga – regular season, Round 6: