Serbia and France have scored victories in round 4 of the Volleyball Nations League 2021.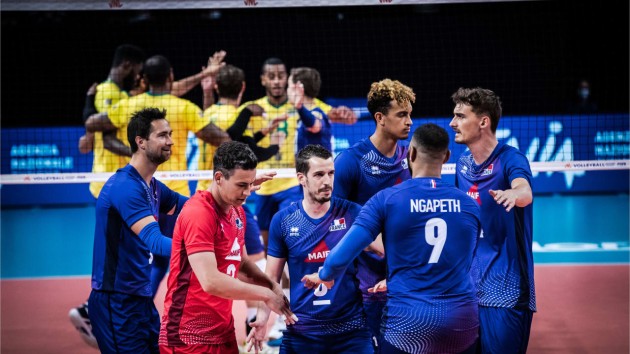 Serbia handed Japan their first defeat of the 2021 FIVB Men's Volleyball Nations League after blocking their opponents 17 times and coming back from a set down to finish the match in four.
"All the time we start the game not in the best way. We lost the first set easily and then we knew that we had to win, we had to push. Basically, I want to congratulate the team of Japan, they gave us a great battle here and of course congratulations to my team because we gave it all until the end. It's a very important victory for us and what is our goal, so I'm very proud and happy," says Uros Kovacevic.
France is now the only undefeated team in the competition, after beating Brazil in straight sets.
The first set delivered a stunning drama as Team Yavbou had to play 76 rallies to win this part of the game. Also, the third one was a breathtaking one and again the French side was more successful than Brazil.
Jean Patry was the best scorer of the game with 20 points.
"It was a tight one. It's difficult to win against Brazil easily, they are a really awesome team. We didn't start the game really well, but step by step we came inside the game and it was a really tough first set – we went to 39. I think we played a good game. We can still improve, but we have to continue this way because we have a lot of rotations in the squad. Many players played only one game so far, so now we have to focus on the next match," says Benjamin Toniutti.
"It was so close – the match, the first set… In the first set, we had our chances, but we didn't take them – some counter-attacks, some side-outs and they defended really well. They deserved to win. Now we have to just focus on the next match. The VNL is like this. We are in the process and we just have to trust the process. We have a lot to improve, so we have to focus on preparations and the next match," says Bruno Rezende.
Men's VNL, round 4:
Germany – Argentina 2-3 (19-25, 25-23, 25-17, 23-25, 13-15)
Iran – Canada 3-1 (22-25, 25-22, 25-22, 25-22)
Japan – Serbia 1-3 (25-18, 23-25, 22-25, 13-25)
Brazil – France 0-3 (37-39, 18-25, 22-25, 13-25)
Netherlands – Slovenia 0-3 (18-25, 15-25, 18-25)
Australia – Poland 0-3 (16-25, 10-25, 12-25)
Italy – Bulgaria 3-2 (25-19, 20-25, 25-13, 23-25, 15-13)
Russia – USA 21:00 CET