Unfortunately, in our opinion, there are not enough written traces in our volleyball world about the history of players and coaches who marked the period in which they played or coached.
We mostly celebrate and write about people who are the volleyball stars of this time. But to promote volleyball and to better value our sport, we need to know the history as well as important people of that time, not just current stars. As Mark Lebedew wrote in his blog "To promote volleyball, celebrate its history and build not just new stars but old ones as well.. "
One of the important steps in this direction is the publication of a book about the legendary player of the Spanish national team who became famous by playing as opposite and entered the history of Spanish volleyball as an outside hitter by winning a gold medal at the 2007 European Championship. It is a biography of Rafa Pascual, who was one of the best players in the world in the 90s, and he was certainly one of the most charismatic players at the time.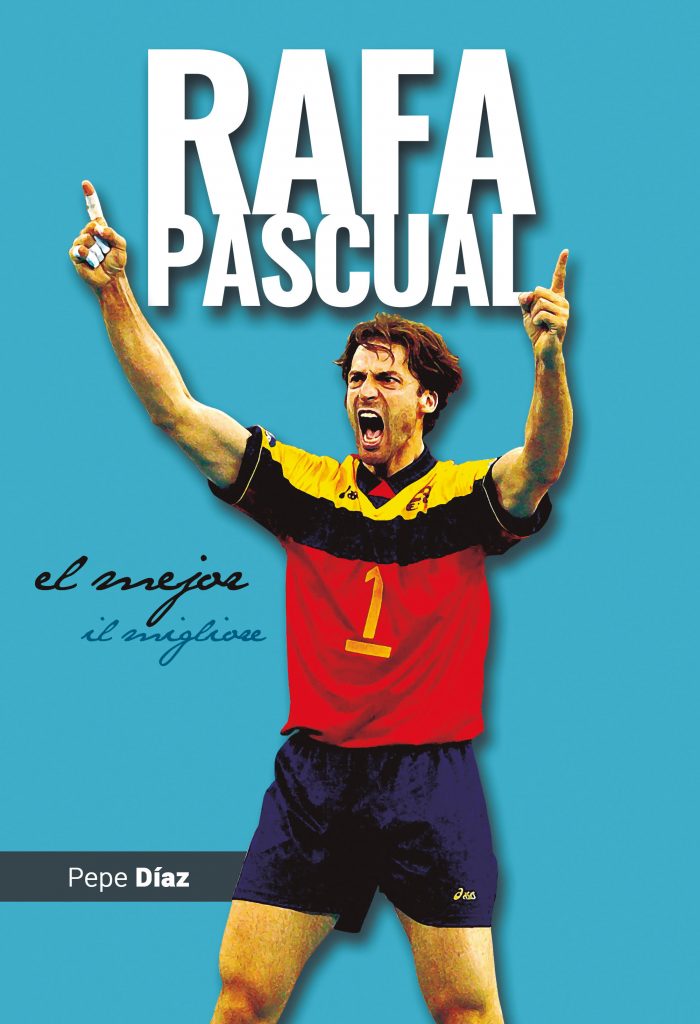 320 pages and more than 200 photos report the story of one of the most valuable volleyball player in the world in the 90s and the greatest in the history of Spain.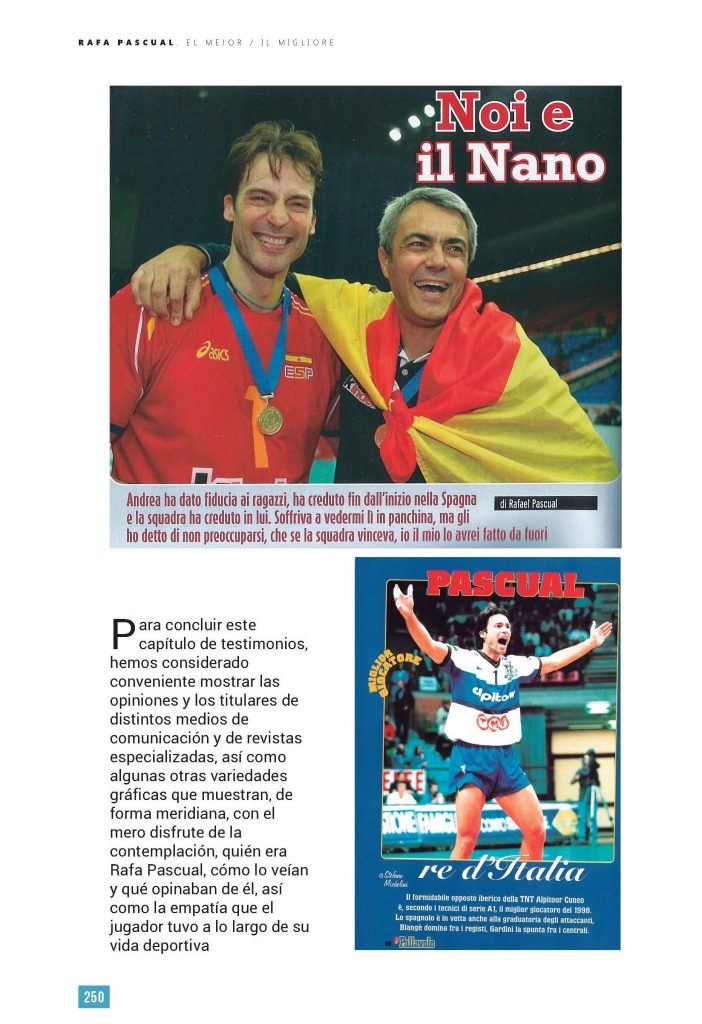 Volleyball worldwide idol with 527 international games played. Indispensable player of the Spanish national team for 20 years (1986-2007). As a club player, the Spaniard played in 7 different countries and 19 clubs, over 26 years (1985-2011), as the first Spanish volleyball player to play in the best league in the world, for an Italian scudetto.
The book presents his origins in Madrid, the birth of sporting talent. Rafa was 14 when his father wondered what volleyball was and told him, "I don't know what it is, but if you do it, be the best."
After playing in Madrid, Barcelona, Palma de Mallorca and Almeria, and carrying out a brilliant performance at the 1992 Barcelona Olympic Games, he landed in Italian Serie A2. In his first season was nominated best foreign player and Best scorer of the competition, taking part in All Star game of Italy (first time for an A2 player) and winning the promotion to Serie A1.
The chapter 3 of the book remember 5 unforgettable seasons played with Cuneo team and his participation with Panasonic Panthers (Japan); Poitiers and Orange Nassau (France); Latina, Perugia, Gioia del Colle, Vibo Valentia, Castellana Grotte (Italy); Playeros de San Juan and Patriotas de Lares (Puerto Rico); Panerythraikos (Greece) and CSKA Sofia (Bulgaria).
14 titles as a club player, and awarded individually in many competitions. As a sample: 1997, 1998 and 1999 Andrej Kuznetsov award as Best scorer in Italian Serie A1. Best spiker, Best scorer and MVP at 1997 European Cup Winners Final Four.
Chapter of his lovely National Team. Best player (MVP) and Top scorer of the 1998 World Championship and closing his career with one of the most extraordinary achievement in the history of international volleyball, the gold medal at the 2007 European Championship.
A highly recommended chapter with testimonials. Coaches, Andrea Anastasi, Silvano Prandi, Raul Lozano; teammates, Fefe De Giorgi, Mastrangelo, Israel Rodriguez, JL Molto; journalists, managers, referees… And much more in this tribute and recognition to an international volleyball star.
The person who is responsible for this book and the author of Rafa's biography is José Díaz García (Seville) – Doctor in Philosophy and Educational Sciences and Graduate in Physical Activity and Sports Sciences. Former Spanish national team coach, Olympic diploma in Barcelona 92 and FIVB Instructor.
The book has been published in Spanish, and we hope that it will soon be translated into English as well. You can order the book via the following links: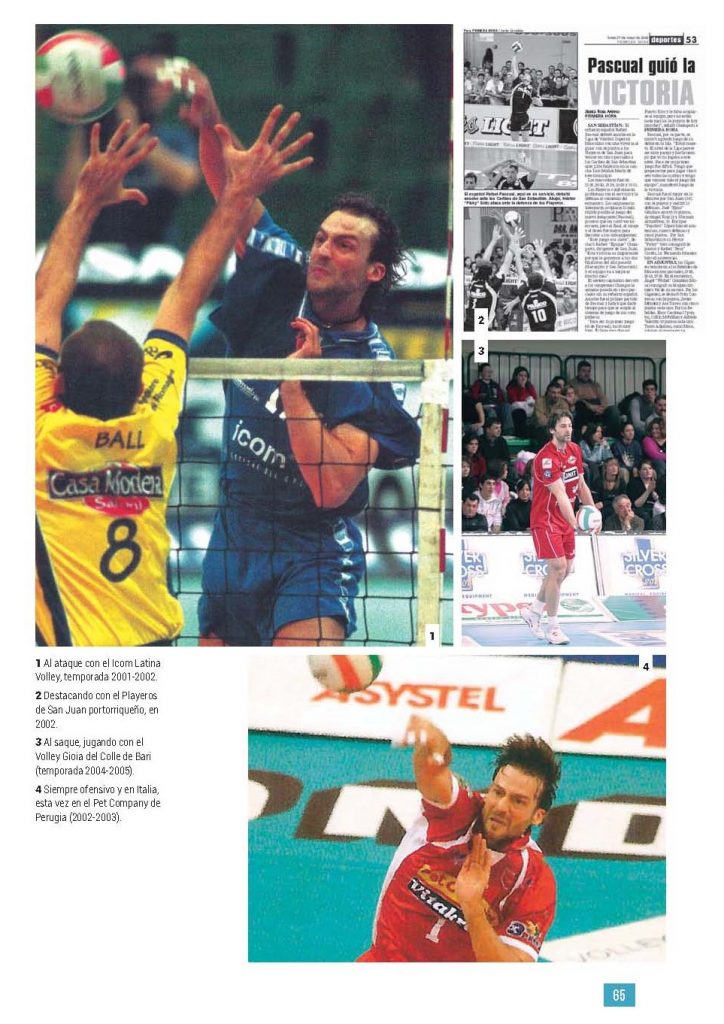 Two years ago, at the start of the COVID-19 pandemic, we did an exclusive interview with this volleyball legend. You can read the interview HERE.