An extraordinary Italy beat Serbia with a score of 3-1 (29-27, 25-22, 23-25, 25-18) and more than deservingly earned a spot in the final of the 2021 CEV Men's Volleyball European Championship.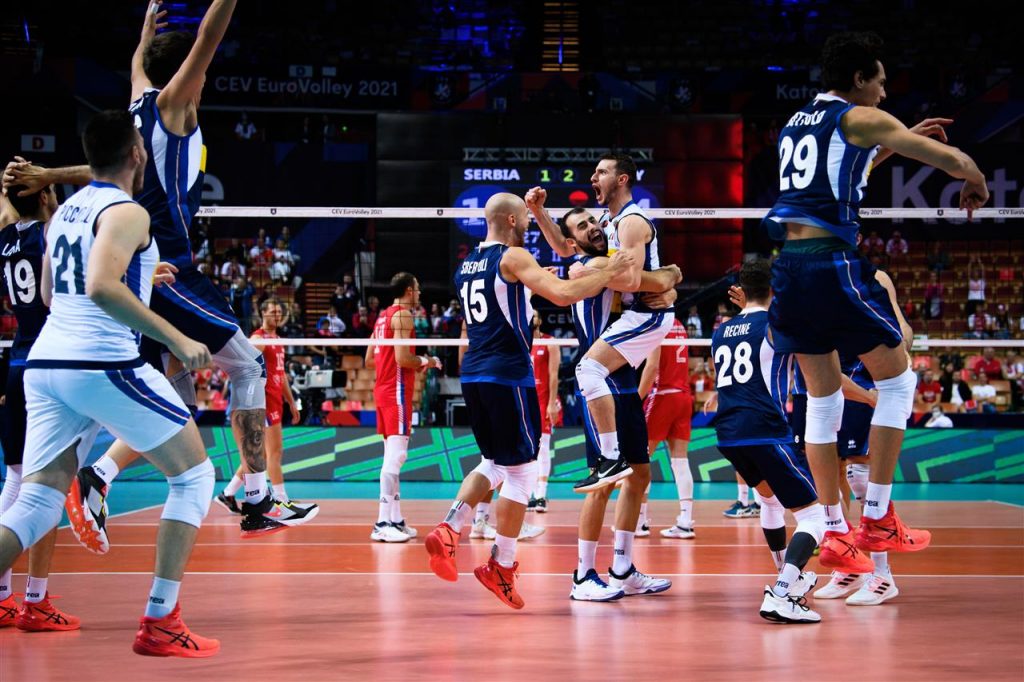 Thanks to the win in the semi-finals of the CEV Men's EuroVolley 2021 against the reigning champion Serbia with a score of 3-1 (29-27, 25-22, 23-24, 25-18) in Katowice, Poland, the Italy National Team got the right to play its 11th final of the continental championship, the first in eight years. The young and rejuvenated squad under the command of Ferdinando De Giorgi remained undefeated in the tournament with eight wins, a record that the 'Azzurri' had only once thus far – in 1958.
Alessandro Micchieletto stood out on the winning side with 23 points, including four blocks, as many blocks as Simone Anzani. Uroš Kovačević scored 16 points for Serbia, while Marko Podraščanin set up five blocks. Tomorrow at 8:30 p.m. Moscow time, Italy will face Slovenia for the gold medal.
CEV Men's EuroVolley 2021 – semi-finals:
Poland – Slovenia 1-3 (25-17, 30-32, 16-25, 35-37)
Serbia – Italy 1-3 (27-29, 22-25, 25-23, 18-25)