The Drawing of Lots for the CEV Champions League group stage (4th Round) was held today in Slovenia. This event provided an view into the new season of Europe most elite club competition, in which previous CEV Champions League winners will take the stage along with several newcomers ready to compete with the best on the continent.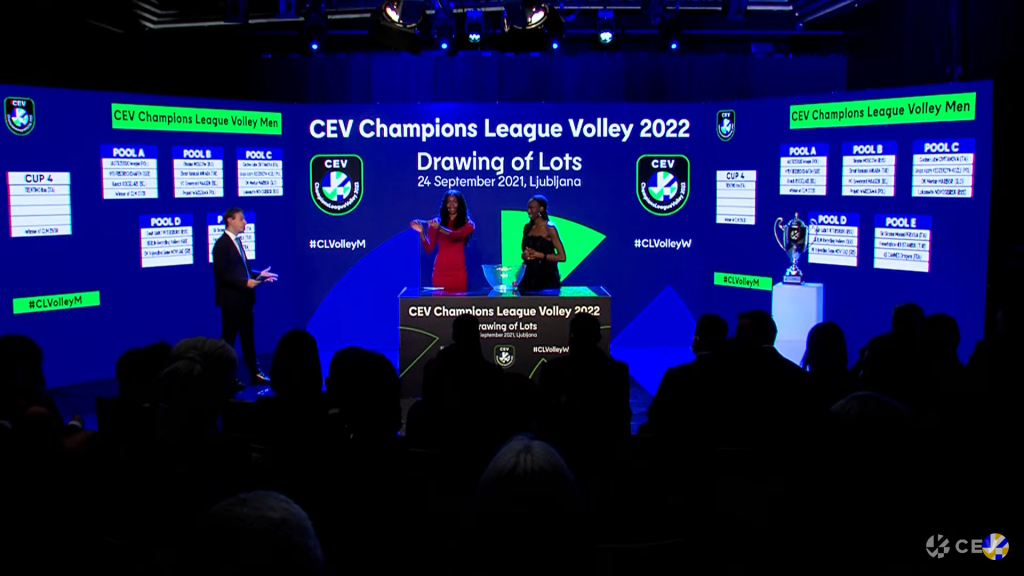 In this phase of the competition there are 20 teams that are divided into 5 groups of 4 teams. 18 teams have been determined to play based on the Champions League Rankings and 2 more teams will come from earlier rounds. The 4th Round of Champions League will be played in a double round-robin format.
The draw for women's Champions League group stage was scheduled for the first part of the event, and it started with the top 5 teams from Cup 1 being drawn first to fill the top spots in each Pool.
Pool A: Lokomotiv Kaliningrad Reglon (RUS), Developres SkyRes Rzeszow (POL), Dresdner SC (GER), Winner of CLW 13/14
Pool B: VakifBank Istanbul (TUR), ASPTT Mulhouse VB (FRA), LP Salo (FIN)
Pool C: Igor Gorgonzola Novara (ITA), Dinamo Moscow (RUS), VK Dukla Liberec (CZE), THY Istanbul (TUR)
Pool D: Fenerbahce Opet Istanbul (TUR), Beziers Volley (FRA), VC Maritza Plovdiv (BUL), Dinamo-Ak Bars Kazan (RUS)
Pool E: A.Carraro Imoco Conegliano (ITA), Grupa Azoty Chemik Police (POL), Fatum Nyiregyhaza (HUN), Winner of CLW 15/16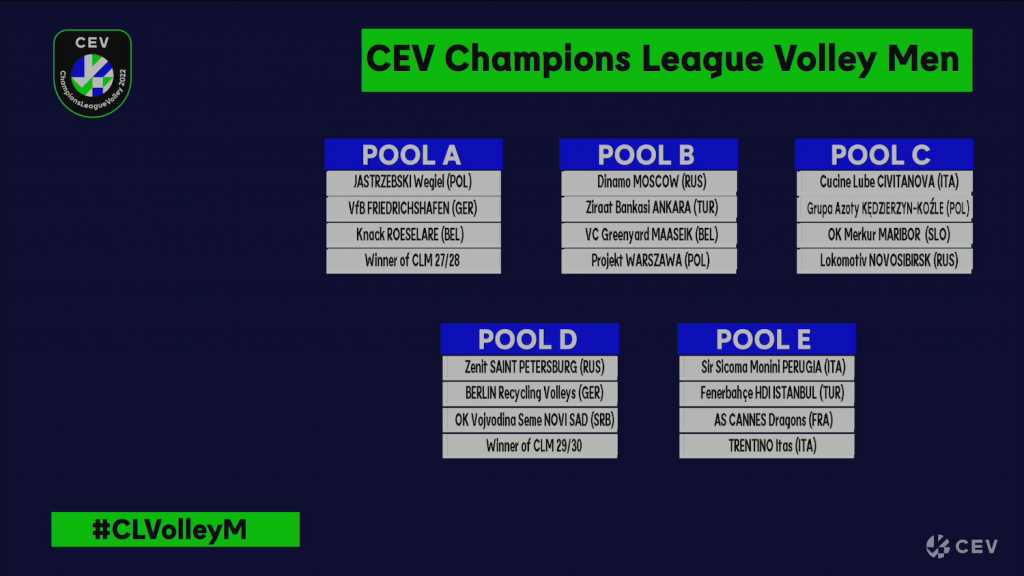 After the draw in the women's competition was over, it was time to set up the Pools of the 4th round of the men's competition. Following the same procedure as in the women's draw, the teams from Cup 1, according to the Champions League ranking, were drawn to the first places of each Pool.
Pool A: Jastrzebski Wegiel (POL), VfB Friedrichshafen (GER), Knack Roeselare (BEL), Winner of CLM 27/28
Pool B: Dinamo Moscow (RUS), Ziraat Bankasi Ankara (TUR), VC Greenyard Maaseik (BEL), Project Warszawa (POL)
Pool C: Cucine Lube Civitanova (ITA), Grupa Azoty Kedzierzyn-Kozle (POL), OK Merkur Maribor (SLO), Lokomotiv Novosibirsk (RUS)
Pool D: Zenit Saint Petersburg (RUS), Berlin Recycling Volleys (GER), OK Vojvodina Seme Novi Sad (SRB), Winner of CLM 29/39
Pool E: Sir Sicoma Monini Perugia (ITA), Fenerbahce HDI Istanbul (TUR), AS Cannes Dragons (FRA), Itas Trentino (ITA)
The CEV Champions League 4th Round/Pool stage draw was broadcast on CEV official YouTube channel and video of the event can be viewed below.