The Drawing of Lots for the preliminary rounds of the 2023 CEV Champions League, CEV Cup, and CEV Challenge Cup across both genders took place today in Luxembourg.
At the headquarters of the European Volleyball Confederation (CEV), just over a month after the conclusion of the 2022 continental club season, culminating with the CEV Champions League Volley Super Finals held in Ljubljana, Slovenia, a draw for the next campaigns was held. A record-breaking 216 clubs from 37 National Federations are competing in the three tiers in the upcoming season.
The Play-off Round, which will take place at the conclusion of the pool round of the competition, has been added to the Champions League, the top club competition in Europe, for the 2023 season. As a result, the top five teams in each pool will advance directly to the quarter-finals, while the next five teams in line and the best third-place team will compete in the above-mentioned round. At the end of September (men) and October (women), teams will play each other both at home and away in the CEV Champions League Volley First Round.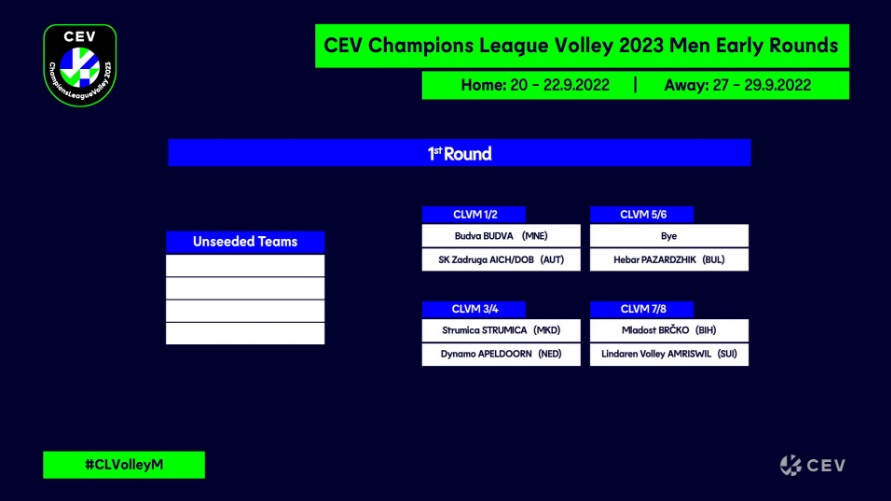 Men: Ford Levoranta Sastamala (FIN), C.S. Arcada Galați (ROU), Sport Lisboa e Benfica (POR), and Mladost Zagreb (CRO) are the teams already seeded in the Second Round. Two victors from the early rounds will advance to the Fourth Round.
Women: The First Round's four winners advance to the Second Round, and this round's winners advance directly to the Fourth Round. The losing teams from the Second Round will play one another for the final available position, giving them a second opportunity to advance to the Fourth Round.
The Champions League's Fourth Round Drawing of Lots will be held on September 16, 2023.
Check out how the Drawing of Lots for the CEV Cup and Challenge Cup for both genders went and which novelties the CEV introduced for the second-tier and third-tier continental competitions.