Turkey took the last remained spot in the Final Four of the 2021 FIVB Women's Volleyball Nations League.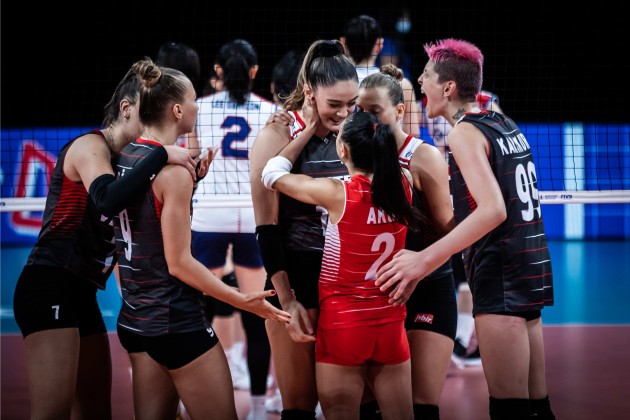 With the four-set win over South Korea on a penultimate day, Turkey filled in the last remained spot in the Final Four of the 2021 Women's VNL. Thus, the team coached by Giovanni Guidetti joined the USA, Brazil, and Japan who booked semifinal tickets earlier. Ebrar Karakurt stood out the most for Turkey in the crucial match for her side, scoring 22 points. Meliha İsmailoğlu made 76.9 % digs (11/13).
"We're very proud. It was an important victory for us. Now we'll play in the Final Four, but the round-robin is not over yet, as we have one more game together, against Brazil. It was difficult to play against Korea because they have many great players – it was a very tough game mentally and physically but we did a good job and I'm really proud of my team," said the Turkey National Team setter Cansu Özbay.
Such an outcome mathematically eliminated China, who despite the sixth successive win (3-0 vs Poland) in the competition, failed to squeeze into the Final Four.
2021 FIVB Women's Volleyball Nations League – Day 14 (Week 5):
Dominican Republic – Serbia 3-0 (25-14, 25-20, 25-18)
USA – Russia 3-1 (25-21, 25-27, 25-23, 25-15)
Japan – Germany 3-1 (25-23, 19-25, 26-24, 25-15)
Thailand – Canada 3-0 (25-16, 25-17, 25-17)
China – Poland 3-0 (26-24, 25-22, 25-16)
South korea – Turkey 1-3 (23-25, 25-20, 17-25, 18-25)
Brazil – The Netherlands 3-0 (25-19, 25-19, 25-20)
Belgium – Italy 3-2 (25-17, 20-25, 22-25, 25-17, 15-10)