The SuperLega Credem Banca 2022/23 regular season has come to an end, and the Play Off Scudetto grid has been outlined. The 22nd and last day of the regular season was filled with excitement and fierce competition as teams fought for their positions in the playoffs.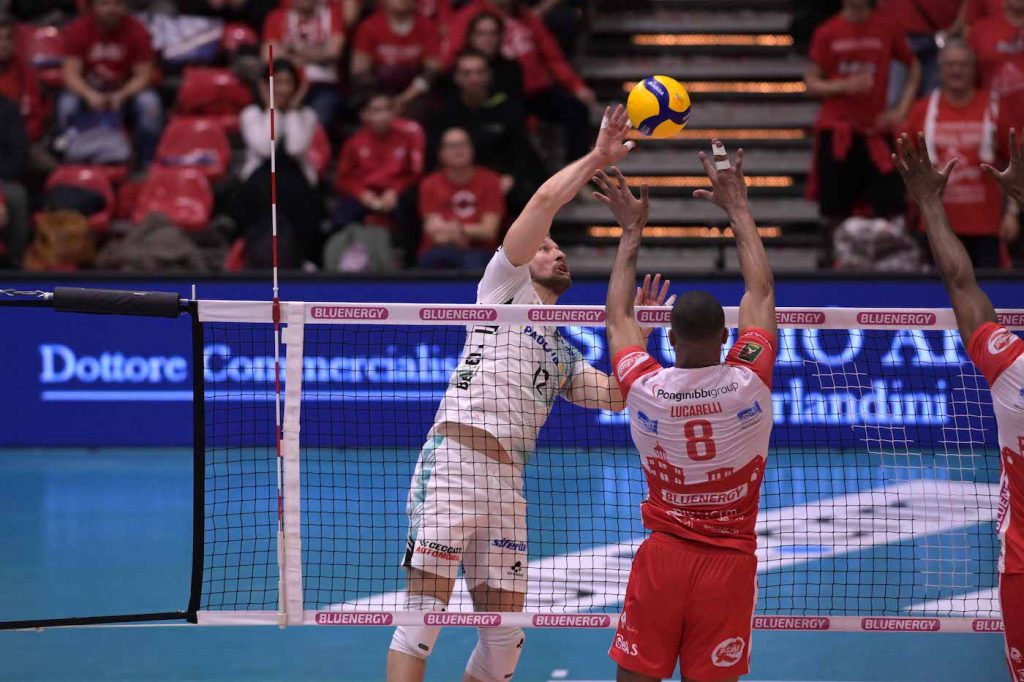 In the first match, Vero Volley Monza faced off against Emma Villas Aubay Siena, winning 3-0 with scores of 25-19, 25-22, 25-22. The victory secured Monza a position No. 7 for the quarterfinals of the Play Offs Scudetto, where they will face the second-place team, Itas Trentino.
Allianz Milano also had a strong performance in their last match, beating Gioiella Prisma Taranto 3-0 with scores of 25-21, 26-24, 25-18. The win guaranteed Milano a 8th place for the playoffs bracket. Taranto, on the other hand, was fighting for salvation and was ultimately saved from relegation due to Siena's defeat in Monza.
The highlight of the day, however, was the match between Sir Safety Susa Perugia and Cucine Lube Civitanova. Perugia had already secured their place at the top of the table, but they showed no signs of slowing down, ending the regular season undefeated with 22 wins out of 22 games. They beat Civitanova in three sets with scores of 25-16, 25-19, 25-20, thanks to strong serve and attack, including 11 aces compared to Civitanova 3. The Perugia attack closed with an impressive 66%, and the match MVP, Herrera, scored 20 points, including 6 aces and 2 blocks.
In the match between Gas Sales Bluenergy Piacenza and Pallavolo Padova, Gas Sales Bluenergy Piacenza secured a 3-1 victory, winning sets with scores of 25-15, 18-25, 25-21, and 25-21. This win ensured Piacenza placement in sixth position for the Regular Season in the standings.
In the final match of the day, Itas Trentino faced off against Valsa Group Modena. Trentino won the match 3-0 with scores of 25-18, 25-20, 25-22, securing 2nd place for the quarterfinals and cementing their superiority over Modena with four victories in four seasonal matches.
With the regular season over, the Play Off Scudetto grid has been outlined, with Sir Safety Conad Perugia facing off against Allianz Milano, Itas Trentino taking on Vero Volley Monza, Valsa Group Modena playing against Gas Sales Bluenergy Piacenza, and Cucine Lube Civitanova facing WithU Verona. The quarterfinals will be played in a best-of-five format, starting next week.
The regular season may be over, but the excitement is just beginning in the Play Offs Scudetto. Fans can expect more thrilling matches as the teams battle it out for the title of SuperLega Credem Banca champions.
SuperLega CredemBanca – 22nd Round
March 11, 2023
WithU Verona vs Top Volley Cisterna 3-1 (25-22, 25-20, 21-25, 25-20)
March 12, 2023
Sir Safety Susa Perugia vs Cucine Lube Civitanova 3-0 (25-16, 25-19, 25-20)
Itas Trentino vs Modena Volley 3-0 (25-18, 25-20, 25-22)
Allianz Milano vs Gioiella Prisma Taranto 3-0 (25-21, 26-24, 25-18)
Gas Sales Bluenergy Piacenza vs Pallavolo Padova 3-1 (25-15, 18-25, 25-21, 25-21)
Vero Volley Monza vs Emma Villas Aubay Siena 3-0 (25-19, 25-22, 25-22)
STANDINGS
1 Sir Safety Susa Perugia 65
2 Itas Trentino 44
3 Valsa Group Modena 40
4 Cucine Lube Civitanova 38
5 WithU Verona 37
6 Gas Sales Bluenergy Piacenza 34
7 Vero Volley Monza 33
8 Allianz Milano 30
9 Top Volley Cisterna 26
10 Pallavolo Padova 18
11 Gioiella Prisma Taranto 16
12 Emma Villas Aubay Siena 15
Quarter-Finals
Sir Safety Conad Perugia vs Allianz Milano
Itas Trentino vs Vero Volley Monza
Valsa Group Modena vs Gas Sales Bluenergy Piacenza
Cucine Lube Civitanova vs WithU Verona