The 27th round of the Russian Superliga has concluded today, with straight sets victory of Belogorie Belgorod against Kuzbass Kemerovo with scores of 25-21, 25-23, and 25-17.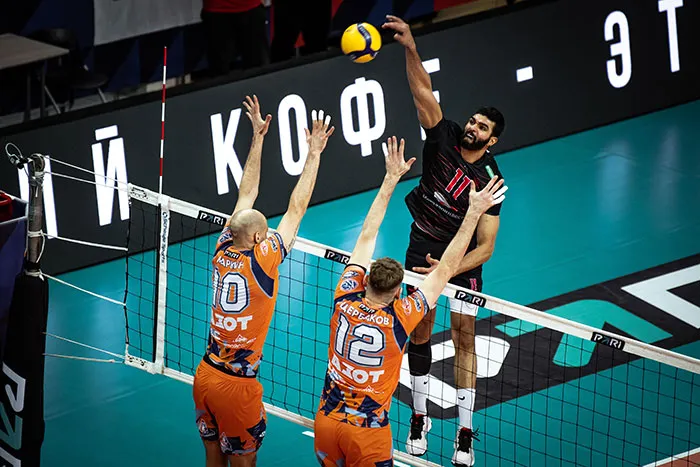 The Belgorod Lions have secured at least fifth place in the regular season with a three-point victory over Kuzbass, cutting off all their pursuers. Belogorie has won six consecutive matches in three weeks, making it out of reach for Ural, Dynamo-LO, Kuzbass, and Fakel. Also just two wins behind Zenit and Lokomotiv, and with three rounds remaining, Belgorod still have a theoretical chance of climbing higher in the standings.
Mohamed Al Hachdadi was the match top scorer with 20 points in three sets. Georgii Zabolotnikov added 10 points, and Pavel Tetyukhin 7 points for Belogorie. For Kuzbass Kemerovo, Roman Pakshin scored 12 points, 11 points for Kirill Klets, and 7 points for Alexander Markin.
Russian Superliga – Round 27
March 10, 2023
Yenisei Krasnoyarsk vs Nova Novokuybyshevsk 3-0 (25-22, 25-12, 27-25)
Neftyanik Orenburg vs Stroitel Minsk 3-1 (23-25, 25-18, 25-11, 25-22)
Yugra-Samotlor Nizhnevartovsk vs Dynamo-LO 0-3 (23-25, 21-25, 20-25)
March 11, 2023
Ural Ufa vs Dynamo Moscow 1-3 (28-26, 17-25, 22-25, 22-25)
Fakel Novy Urengoy vs Zenit Kazan 0-3 (21-25, 21-25, 11-25)
Gazprom-Yugra Surgut vs Lokomotiv Novosibirsk 0-3 (22-25, 15-25, 20-25)
ASK Nizhny Novgorod vs Zenit St. Petersburg 3-2 (25-21, 20-25, 25-21, 22:25, 15:11)
March 12, 2023
Belogorie Belgorod vs Kuzbass Kemerovo 3-0 (25-21, 25-23, 25-17)
STANDINGS
1. Zenit Kazan 76
2. Dynamo Moscow 73
3. Zenit St. Petersburg 64
4. Lokomotiv Novosibirsk 58
5. Belogorie Belgorod 57
6. Ural Ufa 46
7. Fakel Novy Urengoy 46
8. Dynamo-LO 45
9. Kuzbass Kemerovo 43
10. Yenisei Krasnoyarsk 38
11. ASK Nizhny Novgorod 28
12. Gazprom-Yugra Surgut 26
13. Yugra-Samotlor Nizhnevartovsk 14
14. Neftyanik Orenburg 13
15. Nova Novokuybyshevsk 13
16. Stroitel Minsk 7