In Italian Serie A1 the 23rd round is concluded with 4 matches played on Sunday. The match that stood out the most was the highly anticipated game between Conegliano and Scandicci. In the end, Conegliano emerged victorious, winning against Scandicci at Palazzo Wanny.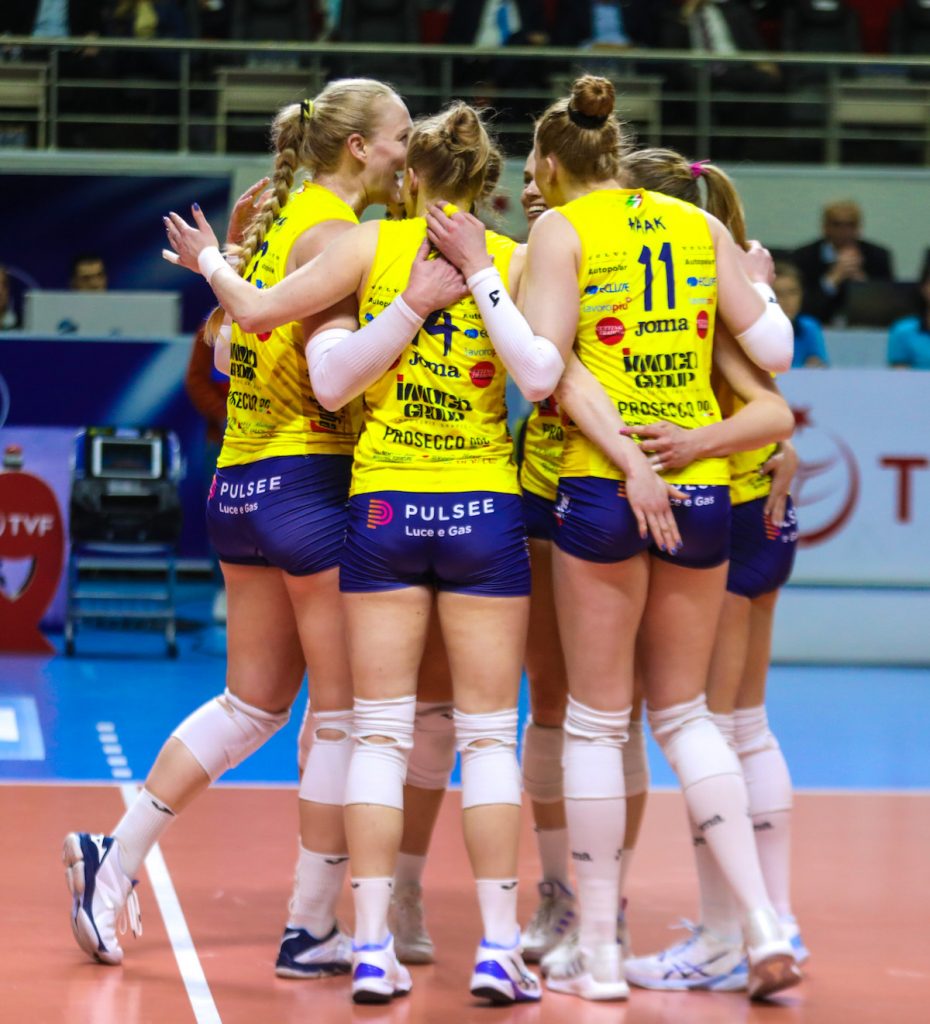 But the excitement didn't stop there. The other matches on Sunday opened up new possibilities for the unfolding of the fight for relegation. Perugia's defeat against Novara gave their competitors a chance to reduce point difference, and that's precisely what happened. Macerata managed to end their thirteen-match losing streak by defeating Busto Arsizio, while Pinerolo secured a clear 3-0 victory over Bergamo.
The current standings at the bottom in the battale to avoid relegation show Perugia at 16 points, followed by Pinerolo at -2 and Marcherata at -6. At the top of the standings, with the victory against Scandicci, Conegliano solidified their top spot with a seven-point lead ahead of their closest competitor.
The match at Palazzo Wanny between Conegliano and Scandicci was highly anticipated. In the end, the Conegliano emerged victorious, winning the game against Scandicci with a score of 1-3. Isabelle Haak of Conegliano was the match top scorer with 24 points (54% attack, 3 aces, and 1 block). Meanwhile, Ekaterina Antropova was the most efficient player of Savino Del Bene Scandicci with 16 points (57% attack, 2 aces, 1 block), followed by Zhu Ting with 15 points (37% attack, 39% on reception).
Serie A1 – 23rd Round
Megabox Ond. Savio Vallefoglia vs Reale Mutua Fenera Chieri 1-3 (25-15, 22-25, 18-25, 21-25)
Vero Volley Milano vs Cuneo Granda S.Bernardo 3-0 (25-22, 25-17, 25-15)
Trasportipesanti Casalmaggiore vs Il Bisonte Firenze 3-2 (25-19, 19-25, 25-21, 19-25, 17-15)
March 19, 2023
Cbf Balducci Hr Macerata vs E- Work Busto Arsizio 3-1 (22-25, 25-20, 25-16, 26-24)
Igor Gorgonzola Novara vs Bartoccini-Fortinfissi Perugia 3-0 (25-17, 25-22, 25-14)
Wash4green Pinerolo vs Volleyball Bergamo 1991 3-0 (25-15, 25-15, 25-20)
Savino Del Bene Scandicci vs Prosecco Doc Imoco Conegliano 1-3 (19-25, 17-25, 25-20, 20-25)
STANDINGS
Prosecco Doc Imoco Conegliano 63 (22 – 1)
Savino Del Bene Scandicci 56 (18 – 5)
Vero Volley Milan 52 (17 – 6)
Igor Gorgonzola Novara 45 (17 – 6)
Reale Mutua Fenera Chieri 45 (15 – 8)
Heavy transport Casalmaggiore 37 (12 – 11)
Bergamo Volleyball 1991 34 (11 – 12)
E-Work Busto Arsizio 31 (10 – 13)
Il Bisonte Florence 29 (9 – 14)
Cuneo Granda S.Bernardo 26 (9 – 14)
Megabox Ond. Savio Vallefoglia 25 (9 – 14)
Bartoccini-Fortinfissi Perugia 16 (5 – 18)
Wash4green Pinerolo 14 (4 – 19)
Cbf Balducci Hr Macerata 10 (3 – 20)