The main round of the MEVZA League 2022/23 completed yesterday with the last three matches played.
Leaders in the overall standings and defending champions from Slovenia, ACH Volley Ljubljana finished the main round undefeated. In the last match, ACH Volley defeated Croatian side OK Mursa Osijek 3-0 (25-23, 25-21, 25-21).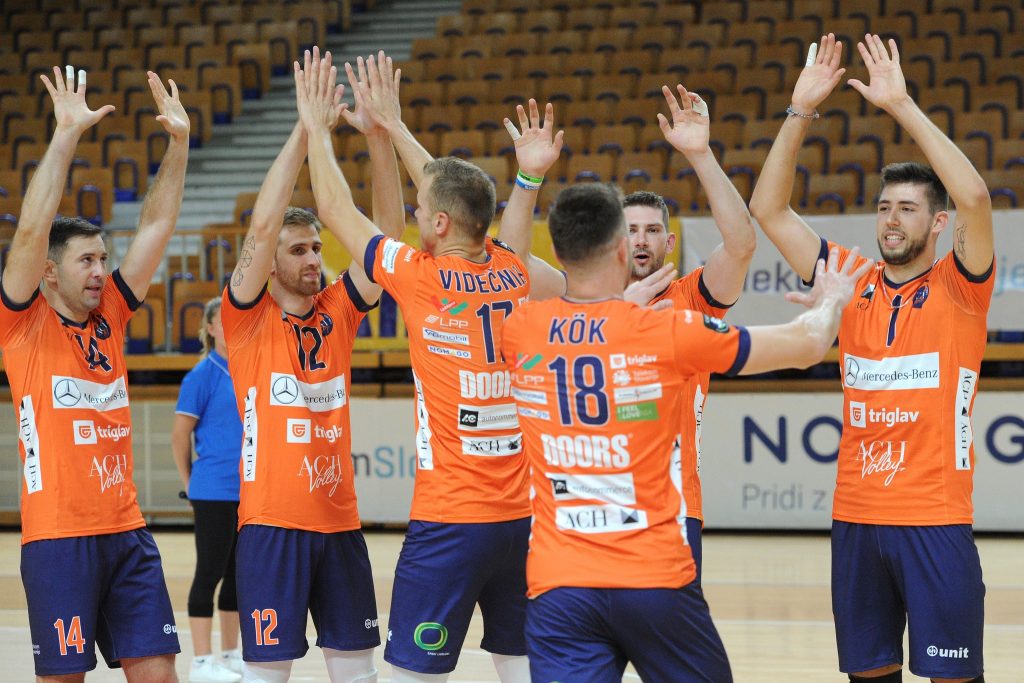 In other two matches, Spartak Myjava defeated HAOK Mladost Zagreb 3-1 (25-23, 26-28, 25-17, 25-20), and another Slovenian team, OK Calcit Kamnik, defeated Union Raiffeisen Waldviertel 3-1 (20 – 25, 25-23, 25-19, 25-21) to confirm second place in the MEVZA League Main Round.
February 2, 2023
ACH Volley Ljubljana (SLO) – MOK Mursa Osijek (CRO) 3-0 (25-23, 25-21, 25-21)
TJ Spartak Myjava (SVK) – HAOK Mladost Zagreb (CRO) 3-1 (25-23, 26-28, 25-17, 25-20)
OK Calcit Kamnik (SLO) – Union Raiffeisen Waldviertel (AUT) 3-1 (20 – 25, 25-23, 25-19, 25-21)
Februay 1, 2023
MOK Mursa Osijek (CRO) – SK Zadruga AICH/DOB (AUT) 3-2 (17-25, 25-19, 22-25, 25-18, 15-12)
Rieker UJS Komárno (SVK) – OK Mladost Ribola Kaštela (CRO) – POSTPONED
OK Merkur Maribor (SLO) – HAOK Mladost Zagreb (CRO) 2-3 (25-19, 25-15, 20-25, 21-25, 17-19)
Union Raiffeisen Waldviertel (AUT) – VCA Amstetten NÖ (AUT) 3-1 (25-23, 25-10, 22-25, 25-18)
January 31, 2023
ACH Volley Ljubljana (SLO) – SK Zadruga Aich/Dob (AUT) 3-0 (25-18, 25-16, 25-22)
TJ Spartak Myjava (SVK) – OK Merkur Maribor (SLO) 1-3 (19-25, 16-25, 25-20, 21-25)
OK Calcit Kamnik (SLO) – VCA Amstetten NÖ (AUT) 3-0 (25-13, 25-22, 25-23)
STANDINGS
1. ACH Volley Ljubljana (SLO) 30
2. OK Calcit Kamnik (SLO) 23
3. SK Zadruga AICH/DOB (AUT) 20
4. OK Merkur Maribor (SLO) 20
5. Union Raiffeisen Waldviertel (AUT) 15
6. MOK Mursa Osijek (CRO) 14
7. HAOK Mladost Zagreb (CRO) 12
8. Rieker UJS Komárno (SVK) 12
9. TJ Spartak Myjava (SVK) 12
10. VCA Amstetten NÖ (AUT) 4
11. OK Mladost Ribola Kaštela (CRO) 0