The reigning men's club volleyball champions Grupa Azoty ZAKSA Kędzierzyn-Koźle remained without three starters from the last season.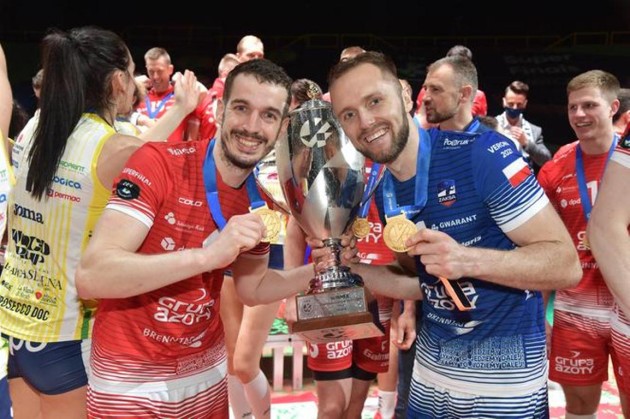 Three starters, two of which can be considered key players of Poland's ZAKSA last season during which they won their maiden CEV Champions League title, are no longer members of the club: Toniutti, Zatorski, and Kochanowski.
The Frenchman Benjamin Toniutti spent the last six years in ZAKSA. The 31-year-old setter led the Kędzierzyn-Koźle team as a captain to taking numerous trophies: 3 national titles (2016, 2017, 2019), 3 Polish Cups (2017, 2019, 2021), 2 Super Cups (2019, 2020), as well as a historic triumph in the Champions League (2021). Individually, Toniutti was named MVP of the Polish Championship once (2016) and Best Setter of the Polish Cup 3 times. He will most likely join the new PlusLiga champions Jastrzębski Węgiel.
After seven seasons, the libero Paweł Zatorski said goodbye to ZAKSA. A 30-year-old player won the same number of titles with the team from Kędzierzyn-Koźle as Toniutti. Zatorski was named two-time Polish Cup Best Defender.
After a year of playing for ZAKSA, Jakub Kochanowski will change the club colors. A 23-year-old middle blocker took the Polish Super Cup, the Polish Cup, and the gold in the Champions League. Kochanowski's new team will, as it seems, be Asseco Resovia Rzeszów.
See our sections – Transfers – Done Deals and Transfers – Rumors.