The France National Team beat the United States on Day 11 of the 2021 FIVB Men's Volleyball Nations League.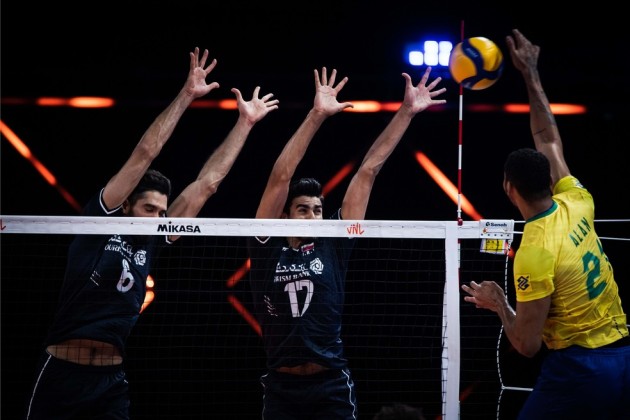 France earned the eighth victory in 11 matches of the 2021 Men's VNL to continue aiming for the semifinals. 'Les Bleus' had to work hard to overcome the United States, which inflicted many wounds to the rival with its play on the net (14 blocks, 5 of which were made by Kyle Ensing). The team coached by Laurent Tillie did it in four sets, partially 25-23, 22-25, 31-29, and 25-22. Earvin Ngapeth scored 16 points on the winning side.
Italy returned to victorious paths in the 2021 Men's VNL. The 'Azzurri' achieved the fifth win, doing it at the expense of the Netherlands: 3-1 (25-19, 25-23, 23-25, 25-21). It was a well-deserved result for the host. As for its rival, it was obvious that the long marathon and a comeback it had last night against France (in which Nimir Abdel-Aziz set the new VNL single-game scoring record) left the mark. The teenage outside hitter Alessandro Michieletto (5 aces) and Francesco Recine (4 blocks) tallied 20 points apiece for Italy.
Brazil is getting closer and closer to securing not only the place in the semifinals but also the top spot in the charts. The Olympic champion prevailed over Iran to claim the 10th win in the competition, the seventh in a row. Ricardo Lucarelli stood out in Brazil in the attack with 20 points, while Thales Hoss made 73.3 % digs (13/15).
Led by Sharone Vernon-Evans (15 points), Canada swept Germany to end its own long losing streak that consisted of five matches.
2021 FIVB Men's Volleyball Nations League – Day 11 (Week 4):
Argentina – Russia 1-3 (19-25, 23-25, 25-21, 19-25)
Serbia – Bulgaria 3-0 (25-20, 25-17, 25-17)
Slovenia – Australia 3-1 (18-25, 25-18, 25-18, 25-17)
Japan – Poland 0-3 (14-25, 18-25, 19-25)
Netherlands – Italy 1-3 (19-25, 23-25, 25-23, 21-25)
Canada – Germany 3-0 (25-17, 26-24, 25-21)
USA – France 1-3 (23-25, 25-22, 29-31, 22-25)
Iran – Brazil 1-3 (19-25, 25-23, 19-25, 21-25)