Cuprum Lubin managed to beat Asseco Resovia Rzeszów in the Polish Men's Volleyball Championship after more than two years.
Cuprum made a huge upset in Round 19 of the 2022–23 PlusLiga. After more than two years, the Lubin-based side managed to inflict a setback on Resovia. Now, such a result is an even bigger feat given that Resovia lead the competition and will remain at the top despite losing today. On the other hand, Cuprum were ranked 13th in the standings prior to the encounter, and they ended Resovia's seven-game winning streak today.
Ukrainian Illia Kovalev was the greatest protagonist for the side that achieved victory, scoring 18 points. German Florian Krage was huge in the blocking, recording seven of the team's 15 stuffs (tied in that segment with Resovia). American Torey DeFalco top-scored for Resovia with 15 points. Slovenian Jan Kozamernik set up 6 blocks.
2022-23 PlusLiga, regular season, Round 19: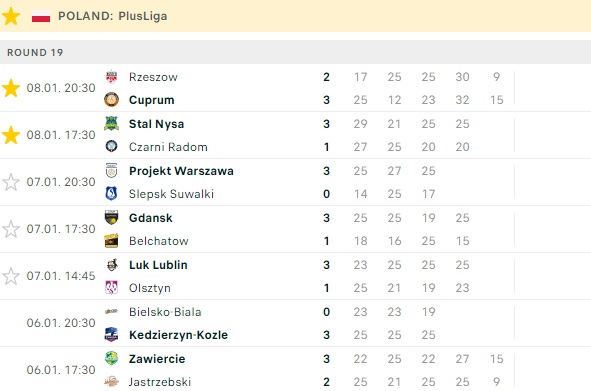 January 9:
Barkom Każany Lwów – GKS Katowice