When title contenders lose to candidates for the relegation – there's no other way to call it than a stunner: Fenerbahçe HDI Sigorta – Tokat Bld. Plevne 1-3 (25-27, 23-25, 25-20, 21-25) in Round 16 of the 2021/22 Turkish Men's Volleyball Championship.
Tokat, the 3rd team from the bottom in the 2021/22 AXA Sigorta Efeler Ligi, stunned vice-champions and also 3rd-placed side in the charts Fenerbahçe in Round 16, taking a 3-1 victory. This was the fifth success for Tokat in the league this season to which they were led by Estonian Renee Teppan (25 points).
Halkbank, who swept Avşar Maden Suyu Afyon Bld. Yüntaş today to reach 15-0, benefited from the result mentioned above as their lead in the standings has only become more firm now given they have 6 points more than Fenerbahçe. In other words, Ziraat Bankkart remain to pose as the only threat to the Ankara-based club in winning the regular season.
2021/22 AXA Sigorta Efeler Ligi – regular season, Round 16: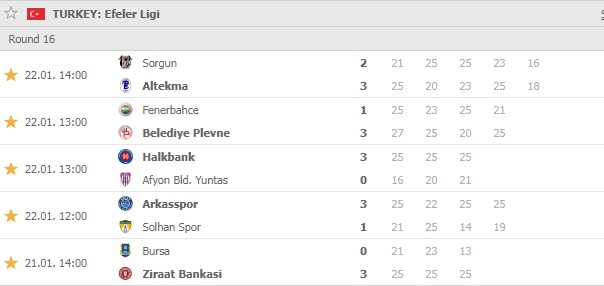 January 23
Allpower Akü Cizre Bld. – Spor Toto
January 24
Yeni Kızıltepe Spor – Galatasaray HDI Sigorta