Stefan Boermans and Yorick de Groot have received the gold medals after winning the prestigious men's FIVB Beach World Tour tournament, the 4-star event in Gstaad.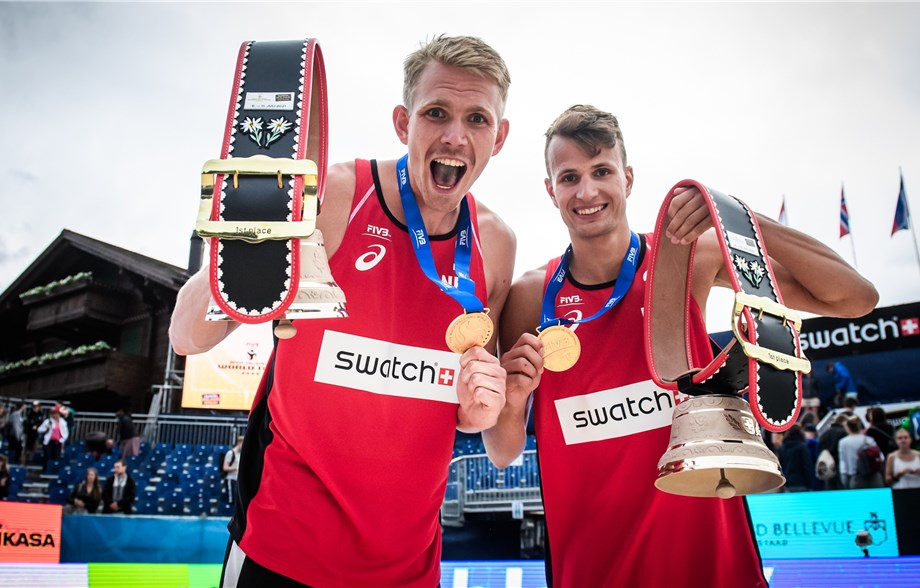 Currently sitting in 41st place of the FIVB World Rankings, the 26-year-old Boermans and the 21-year-old De Groot topped the podium in just their seventh international tournament together. The Europeans first became partners in March, just four months ago, and surprised the world with their early success.
In Gstaad, Boermans and De Groot completed their undefeated campaign, which started on Wednesday, with a 2-1 (23-21, 19-21, 15-10) gold medal match win over Qatar's Cherif Younousse and Ahmed Tijan. They had already defeated the Asians in their second match in the Swiss Alps, which granted them the top spot in Pool B.
"We had played them in pool play and we knew how good they are. We had to bring our top game to win. We kept our calm near the end and kept playing our game and focusing on our side of the net. I believe it was an amazing match to watch and I still can't believe we won it," says De Groot.
It's the first time a Dutch male team wins the traditional Gstaad tournament and also the second consecutive title for a men's duo from the Netherlands in World Tour 4-star events, following Alexander Brouwer and Robert Meeuwsen's victory in Ostrava in June.
"I had never seen the popular cowbells which are given as the trophies of the Gstaad event before, only in photos I might as well sleep with it tonight, says Boermans.