In the Finals of the Copa Brasil 2023, Sada Cruzeiro claimed their seventh tournament title by defeating Farma Conde São José Vôlei 3-0 (25-18, 25-21, 25-23).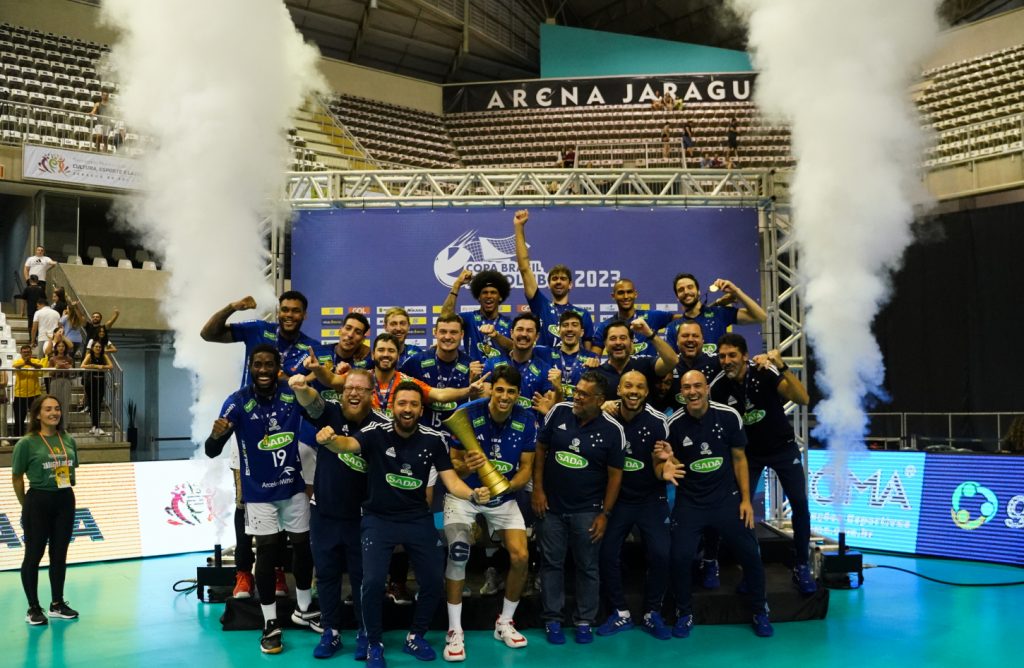 The key to Sada Cruzeiro success was in their dominant serve, which included eight aces that made things challenging for their opponents. In both, the semifinals and final, Cuban Miguel Ángel Lópe played a crucial role for Sada Cruzeiro, this time he scored 17 points and was the match the top scorer.
Copa Brasil 2023 continues today with the semifinal matches in the women's competition. The first match will feature Dentil/Praia Clube against Fluminense, followed by Gerdau Minas and Sesc RJ Flamengo battling for their spot in the finals. The grand finals are scheduled to be held on Tuesday, March 7.
SEMIFINALS
Sada Cruzeiro vs Suzano Vôlei 3-2 (19-25, 25-22, 28-30, 25-23, 15-7)
Farma Conde São José Vôlei vs Itambé Minas 3-1 (25-18, 20-25, 29-27, 25-19)
FINALS
Sada Cruzeiro vs Farma Conde São José Vôlei 3-0 (25-18, 25-21, 25-23)
Copa Brasil – title holders
2007 – Cimed EC (SC), in Joinville (SC)
2014 – Sada Cruzeiro (MG), in Maringá (PR)
2015 – EMS Taubaté Funvic (SP), in Campinas (SP)
2016 – Sada Cruzeiro (MG), in Campinas (SP)
2017 – EMS Taubaté Funvic (SP), in Campinas (SP)
2018 – Sada Cruzeiro (MG), in São Paulo (SP)
2019 – Sada Cruzeiro (MG), in Lages (SC)
2020 – Sada Cruzeiro (MG) ), in Jaraguá do Sul (SC)
2021 – Sada Cruzeiro (MG), in Saquarema (RJ)
2022 – Fiat/Gerdau/Minas (MG), in Blumenau (SC)
2023 – Sada Cruzeiro, in Jaraguá do Sul (SC)