The Czech Republic dethroned Turkey in the CEV Men's Volleyball European Golden League.
The Czech Republic's dream campaign in the 2022 Men's European Golden League has had a joyful conclusion. They were declared champions after they dethroned the back-to-back titleholders Turkey, beating them 3-1 (25-21, 25-22, 21-25, 27-25) in the final match in Varaždin, Croatia (the Final Four host) in a duel of the two undefeated sides in the tournament. Thus, the Czechs won the title for the first time since EuroLeague's inception in 2004, i.e. 18 years later, preventing Turkey to earn a hat-trick of gold medals. As for Turkey, they had a chance to change the course of the match in the second set but they failed to maintain a comfortable lead of 20-16 and eventually tie the match at 1-1 in sets.
Just like throughout the tournament, Czech outside hitter Jan Galabov was his team's top scorer in the final too, putting down 21 points (71% attack; 20/28), and got awarded MVP.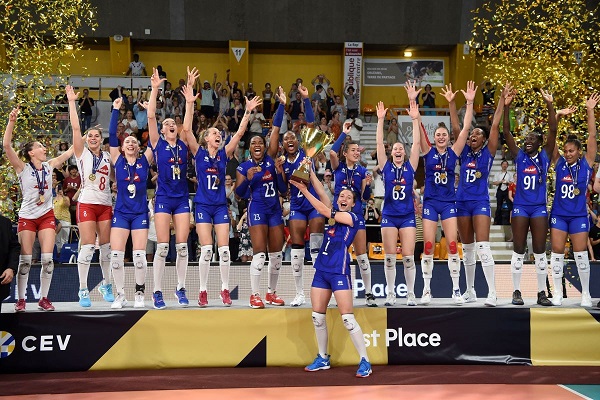 After defeating the Czech Republic in straight sets (partially: 25-22, 27-25, and 25-14) at home in Orléans, France won its first Women's European Golden League title and the first major international victory in the history of the French women's volleyball. The hosts went undefeated in the 2022 edition and were dominant in every aspect of the gold medal encounter.
Lucille Gicquel, the France captain and the tournament's Most Valuable Player, scored match-high 20 points, including 4 aces. Léandra Olinga-Andela made 4 blocks, while Amandine Giardino had 75% reception (16 digs, 25% excellent).
Both the Czech Men and France Women have qualified for the 2022 FIVB Challenger Cup. The men's edition will be held in Seoul, Korea, and the women's in Zadar, Croatia, with each starting on July 28 and ending on July 31. The winners of the Challenger Cup will advance to the 2023 FIVB Volleyball Nations League.
2022 CEV Men's Volleyball European Golden League – all results
2022 CEV Women's Volleyball European Golden League – all results