Bluenergy Daiko Volley Piacenza continued their run in the second tier of the European men's volleyball club competition – the CEV Cup.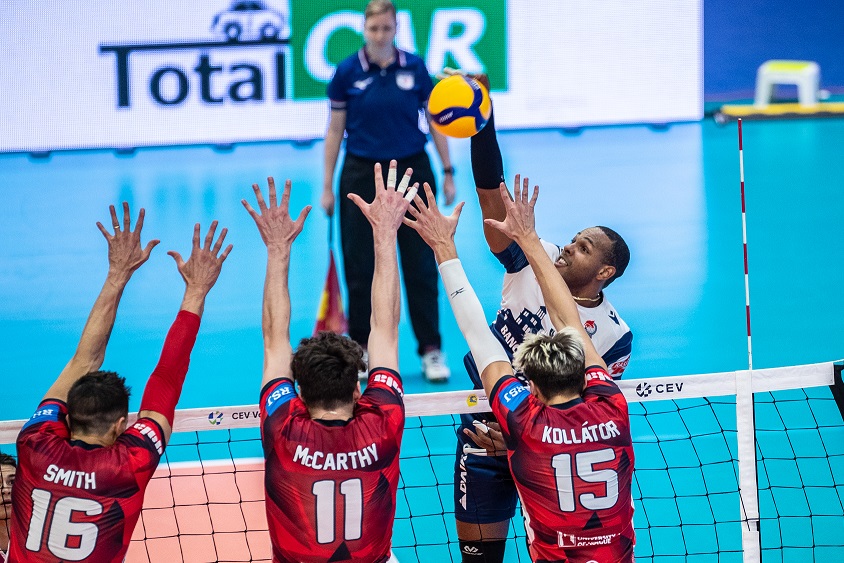 Just under an hour of play against the Czech side of VK Lvi Praha was enough for Italy's Bluenergy Daiko Volley Piacenza to ensure passage to the Round of 16 of the CEV Volleyball Cup 2023 | Men. The first two sets were enough for the SuperLega side given the 3-0 win in the first leg at home; the first set was won with authority, the second saw a fight to the last point and was won by Piacenza after having wasted three set-points, but also having to cancel a set point from the hosts. Once the question of a team moving on to the 1/8 finals was answered, Lvi took the third set, which was all they could do tonight.
Cuban-Brazilian Yoandy Leal topped the winning side with 26 points. Now Piacenza await their opponent in the next stage, which will come from a face-off between Romania's SCM Craiova and Turkey's Fenerbahçe HDI Istanbul, with the former winning the first leg 3-1.
Galatasaray HDI Sigorta Istanbul didn't give a set to Union Raiffeisen Waldviertel in the rematch on the road. The Turkish team defeated the Austrian representatives 3-0, showing a routine play, and advanced to the Round of 16.
Baturalp Burak Güngör was Galatasaray's top scorer with 13 points. The 'Lions' will play against the winner of a duel between the Czech Dukla Liberec and Swiss Chênois Genève – 1-3 in the first leg – in the next stage.
Czech's Jihostroj České Budějovice clearly beat Croatia's Mursa Osijek in the second leg and will play in the Round of 16. Today, just like in the first match, it was 3-0. The 10-time Czech champions won their sixth competitive match in a row under the leadership of coach Vojtěch Zach, who replaced René Dvořák on the bench a month ago. The latter left the team after six years.
The Dutchman Stijn van Schie contributed to a smooth win of Jihostroj with 13 points, while Argentine Matías Giraudo served 4 aces. The next opponent of Jihostroj will be the winner of the double match between Swiss Volley Schönenwerd and Hungarian Fino Kaposvár. Schönenwerd won the first match 3-0.
CEV Volleyball Cup 2023 | Men – 1/16 finals, 2nd leg, today's matches: