VakifBank Istanbul, the reigning CEV Champions League title holders, achieved a stunning turnaround in their semifinal match against Fenerbahce Opet. After losing the first semifinal 0-3, they rallied to win the deciding match 3-0 (25-22, 25-14, 25-22) and claim the Golden Set by a score of 15-12. Led by head coach Giovanni Guidetti, the team demonstrated tremendous resilience and mental fortitude, earning a place in the CEV Champions league SuperFinals in Turin, Italy.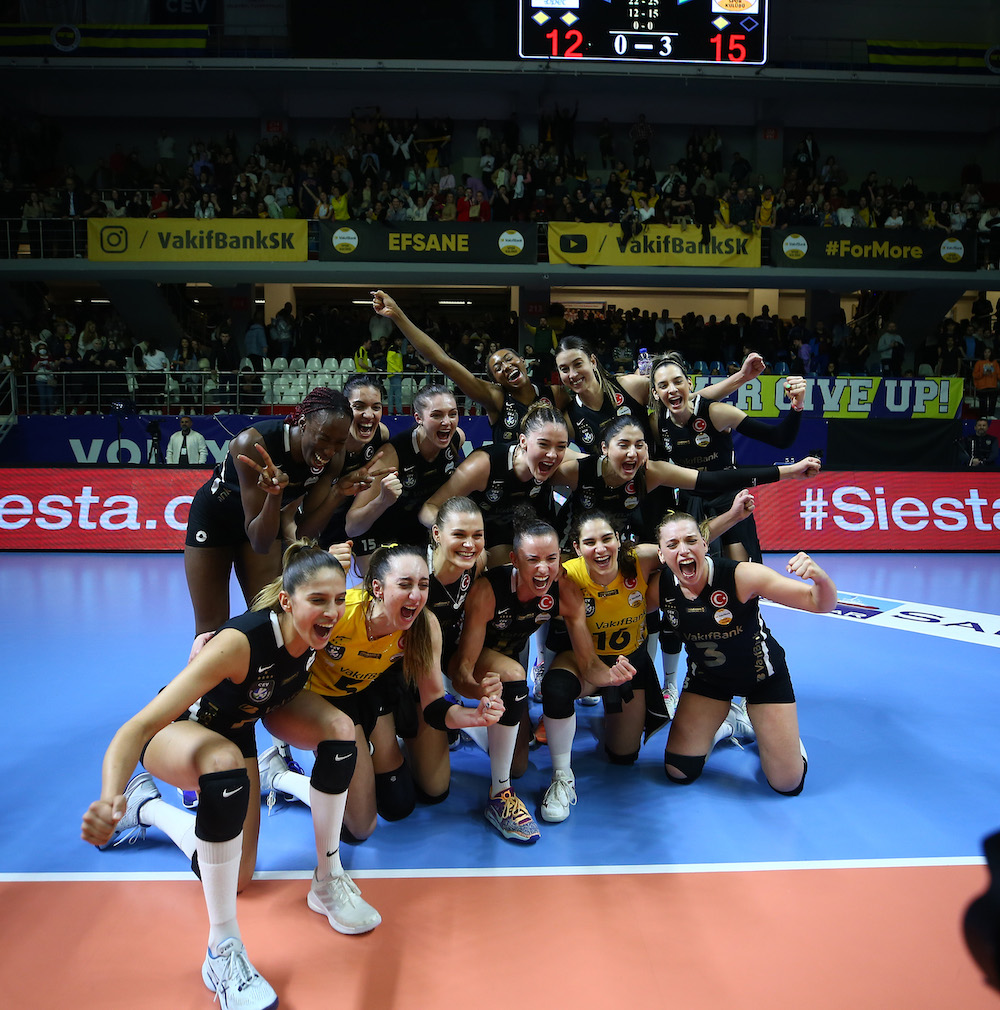 Kara Bajema of VakifBank was named the game MVP, scoring 13 points with a 56% success rate, while Paola Egonu was the match top scorer, netting 21 points with a 57% success rate. Meanwhile, Melissa Vargas scored the most points (18 points, 47% attack) for Fenerbahce.
VakifBank, who claimed the trophy last year with a 3-1 victory over A. Carraro Imoco Conegliano, will have the opportunity to defend their title on May 20. In the SuperFinals, they will face off against another Turkish powerhouse, Eczacibasi Dynavit Istanbul, who secured their spot with a victory over Igor Gorgonzola Novara the day before.
CEV Champions League – Semifinals – 1st Game
April 5, 2023
Igor Gorgonzola Novara (ITA) – Eczacibasi Dynavit Istanbul (TUR) 3-2 (25-23, 25-19, 20-25, 17-25, 16-14)
April 6, 2023
VakifBank Istanbul (TUR) vs Fenerbahce Opet Istanbul (TUR) 0-3 (10-25, 23-25, 20-25)
CEV Champions League – Semifinals – 2nd Game
April 12, 2023
Eczacıbaşı Dynavit (TUR) vs Igor Gorgonzola Novara (ITA) 3-0 (25-22, 25-12, 25-21)
April 13, 2023
Fenerbahce Opet Istanbul (TUR) vs VakifBank Istanbul (TUR) 0-3 (22-25, 14-25, 22-25) – Golden Set: 12-15