Along with Serbia, the defending champions and the hosts Netherlands and Poland, after the end of the last continental championship, all other participants of the FIVB 2022 Women's Volleyball World Championship are also known.
The newly crowned African champion Cameroon, along with runners-up Kenya, along with Brazil and Colombia from South America secured the last places through the continental championships.
Earlier this month, European champions Italy and bronze medalist, Turkey secured their participation in the World Championship – Turkey qualified as the third-placed team because Serbia already qualified as a defending champion. Dominican Republic and Puerto Rico advanced through the NORCECA (North & Central America and Caribbean) Championship.
After the postponement of the continental championship due to the coronavirus pandemic, China and Japan claimed their places from Asia based on the continental ranking.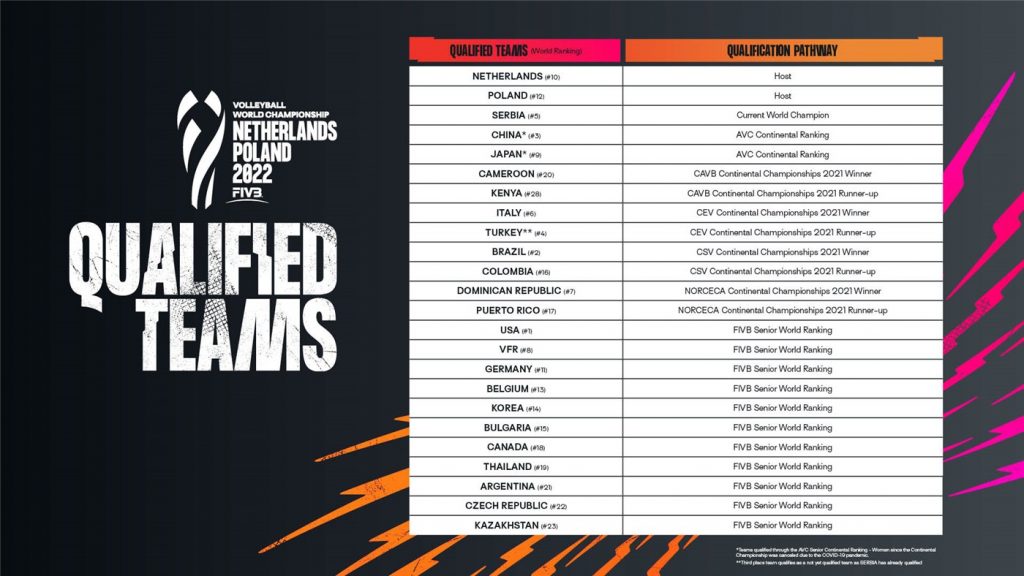 The other 11 teams are filled with national teams based on FIVB World Rankings – 11 best among teams that have not already qualified in other ways.
Teams that qualified:
Hosts: Netherlands, Poland
Current world champion: Serbia
AVC Continental Ranking: China, Japan
CAVB Continental Championship 2021: Cameroon, Kenya
CEV Continental Championship 2021: Italy, Turkey
CSV Continental Championship 2021: Brazil, Colombia
NORCECA Continental Championship 2021: Dominican Republic, Puerto Rico
FIVB Senior World Ranking: USA, VFR, Germany, Belgium, Korea, Bulgaria, Canada, Thailand, Argentina, Czech Republic, Kazakhstan