At the 2022 FIVB Women's Volleyball Nations League match in Quezon City, Philippines, the United States defeated China 3-0 (25-21, 25-23, 25-21) in a big clash between the winners of the last two Olympic Games.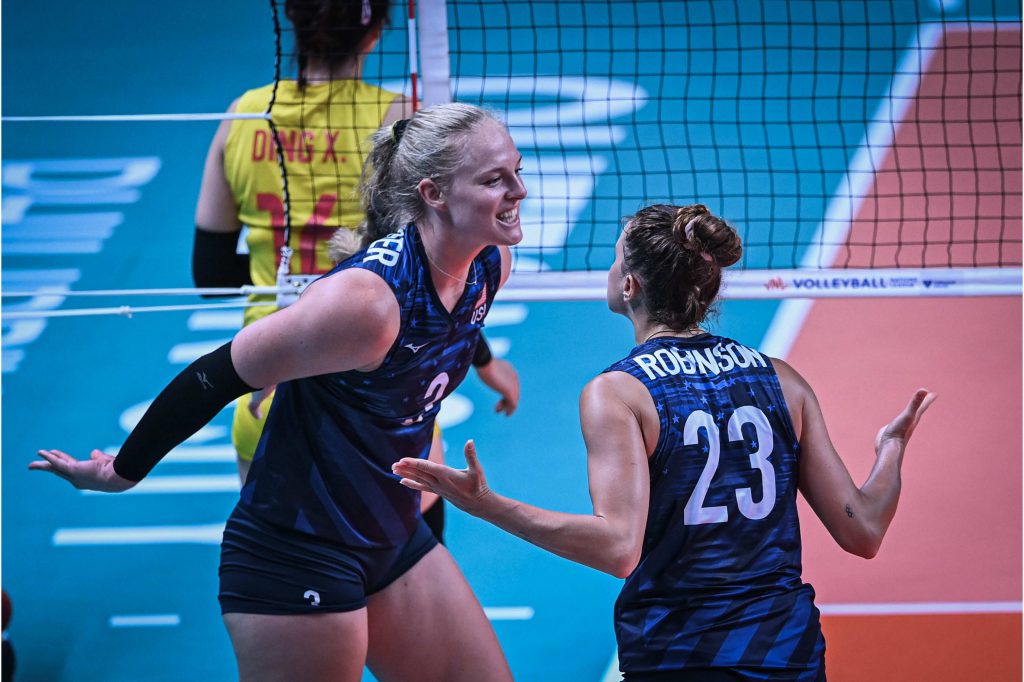 Surprisingly easy, China (5-1 prior to the match) fell to the United States in Pool 4 in a duel of the gold medalists of the last two Olympic Games: 0-3. The US Women are in second place in the VNL rankings (6-1), just behind Japan, with a match against Thailand on the schedule less than 24 hours after their match versus China. The world's No.1 team showed character in today's match against the side positioned third in the FIVB World Ranking, coming back from a six-point deficit in the second set (4-10). USA's outside hitter Kathryn Plummer led all scorers with 20 points.
The world's No.5 team Italy earned three very important points that launch them to a great position ahead of the third week. Splendid European champions beat hosts and South American titleholders Brazil in Brasília 3-1 in Pool 3, being especially dominant in the fourth set in which they had +12 at one point (23-11). This is the fourth success out of the four matches (6-2 in total) of Week 2 for Italy after which they closed the Brazilian stage to return to the court on June 28 in Sofia, Bulgaria, against Poland for the last week of VNL before the Finals in Ankara. As for the Brazilian players, ranked second in the world, they left their fans disappointed in the packed arena (10,000 fans) in their capital city, having 5-2 ahead of the last match of the week, against Serbia. Italy's Paola Egonu was the game's top scorer (22 points), while Sara Bonifacio had 7 blocks.
2022 FIVB Women's Volleyball Nations League – preliminary stage, today's matches, Week 2: