European champions Italy fell to the most pleasant surprise of the 2022 FIVB Men's Volleyball Nations Lague in the match in Quezon City, Philippines, within Week 2 (Pool 3).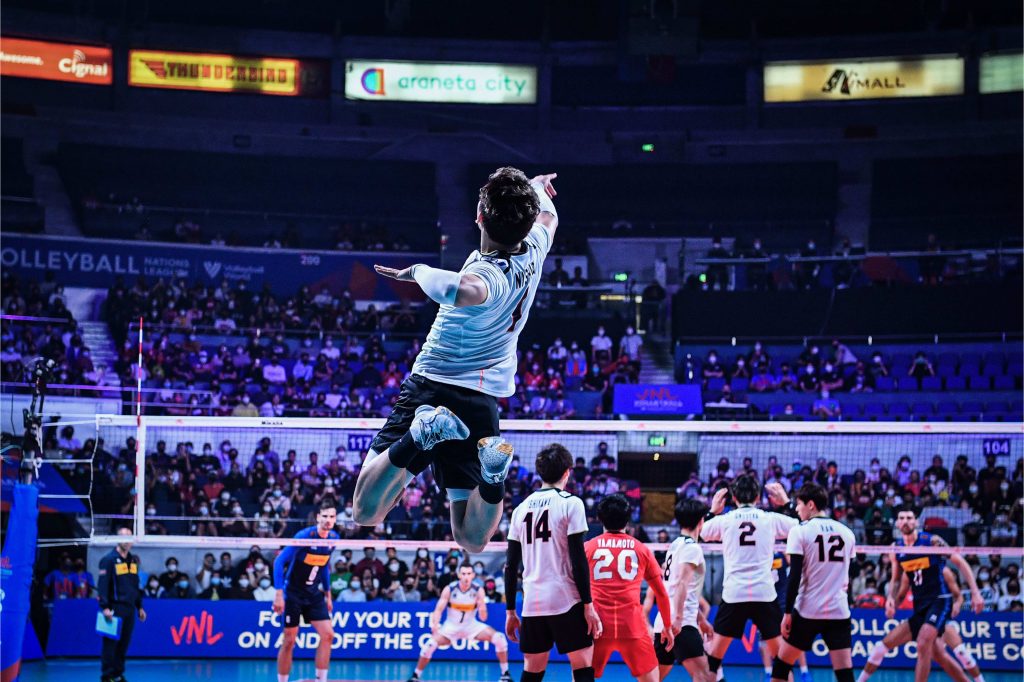 On the third day of the second week of the competition in the Philippines, the national team of Japan, one of the best teams in the Nations League 2022 so far, worked hard to add another victory to their tally, but it was a notable one – against European champions. With a valiant five-set triumph in which they were backed up by the majority of the fans in a crowded arena in Quezon City, the Asian side got itself the third win in a row and a 5-1 record, the same record as each of the top four teams (France, Poland, Japan, and the USA, in that order) in the competition. As for Italy, their four-game losing streak came to an end and they are at 4-2. The match was a contest between Italian blocking efficiency (14-2), and Japanese serving power (14-3). Yuji Nishida, an explosive opposite hitter, delivered a game-high 28 points for his team's win, with 5 aces, while his teammate Yuki Ishikawa served one ace more. Akihiro Yamauchi had 72.22% attack (14/18).
Led by Bruno Lima (25 points), Tokyo Olympics bronze medalists Argentina put the losing streak of four games to an end by defeating China 3-1, while Australia managed to earn its first success in VNL 2022. 'Aussies' lost all five games they played thus far and their maiden success came against Bulgaria after a tie-break and despite the rival's 17 blocks. Lorenzo Pope top-scored Australia with 21 points. Beau Graham had a 73.33% attack (11/15).
Serbia's series of setbacks is over. After three successive defeats, the European powerhouse with a rejuvenated squad turned the match against Canada in Bulgaria's capital of Sofia from 0-2 to 3-2. Interestingly, this was the third match in a row between these tow sides that had to be resolved in the tie-break. Aleksandar Atanasijević stood out as the best scorer in the winning team with 22 points.
The Netherlands beat Germany 3-1 (22-25, 31-29, 25-23, 25-16) with an important performance by Nimir Abdel-Aziz, who grounded 31 points. Twan Wiltenburg made 4 blocks. 'Oranje' has returned to the playoff zone, while Germans suffered third defeat in a row, including the one controversially lost to China by a forfeit due to a disagreement with the anti-covid protocol applied, and their entering to the final phase slowly fades away.
Brazil has definitely returned to the winning paths with the second successive triumph. However, even though they beat Iran in straight sets, 'Seleção' can't be joyful. They lost their best player in this first part of the Nations League, the competition's top scorer until yesterday, Alan Souza. The opposite hitter was injured at the finish of the first set, leaving the court in tears and carried out by his teammates. The extent of Alan's injury has yet to be assessed. He was replaced by his sibling Darlan Souza. Ricardo Lucarelli top-scored Brazil today with 15 points, while Isac Santos set up 4 blocks.
2022 FIVB Men's Volleyball Nations Lague – preliminary stage, Week 2, today's matches: