The France National Team ideally started its 2022 FIVB Volleyball Men's World Championship campaign by beating Germany in 3 sets.
Against Germany in its first match in Pool D of the World Championship 2022 in Ljubljana, Slovenia, the French team didn't disappoint its fans, inflicting a 3-0 (25-22, 28-26, 26-24) defeat to an opponent who hasn't beaten them in official competition since the match for third place in the World Championship 2014 (thank you, French federation for this info).
The result will certainly satisfy the 'Les Bleus' players and staff who assumed their status as favorites. The way they did so will probably satisfy them a little less. German players, being aware they play against the reigning Olympic champions and having nothing to lose, caused bigger damage than expected to France, with the role of the main gunner embodied in Moritz Karlitzek, the top scorer of the match (17 points). Earvin Ngapeth tallied 15 for France, forcing rivals to fail to receive his serves 4 times.
In Pool C in Katowice, Poland, the United States gave no room for an upset to Mexico and earned their first 3 points in the tournament. Led by Aaron Russell (16 points), the USA managed to keep their well-known acquaintances from NORCECA to as little as 12 points in the third set – quite a statement about the domination of the 'Stars and Stripes'. There were no players in double digits for Mexico but despite that, their middle blocker Axel Téllez managed to stand out in blocking with 4 stuff points.
2022 FIVB Volleyball Men's World Championship – Preliminary Phase, Day 1: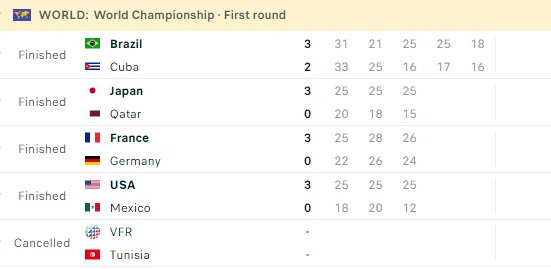 In progress:
Poland – Bulgaria
Slovenia – Cameroon