On their first match at the Arena di Monza of the 2021/2022 Serie A1, Vero Volley Monza turned things around and earned their first 3 points of the season after a tough 3-1 defeat against Busto Arsizio last weekend.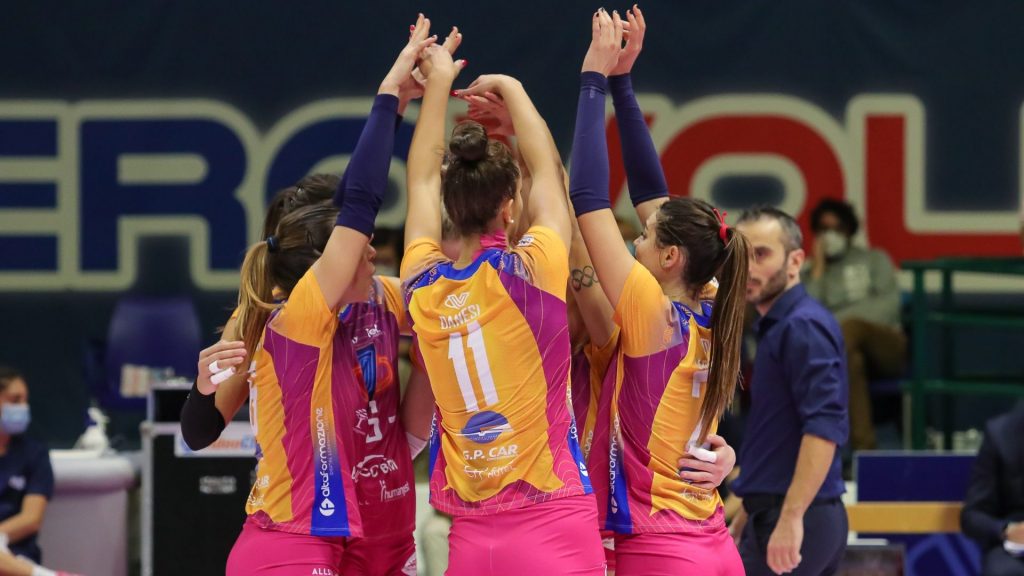 Even though Chieri had started on the right foot – the team of Bregoli came from winning 3-1 at home against Bartoccini-Fortinfissi Perugia – the ''piemontesi'' could not give the surprise and upset Monza. The last time these two teams faced each other was last year during the playoffs where the girls from Monza earned their ticket to the semi-finals after winning the series 2-1 on 3 tight matches.
The match started with the away team captain Kaja Grobelna on the bench but that did not stop them at all. They started on a good note, taking the lead. Therefore, Monza's coach Gaspari decided to make a change and replace Lise Van Hecke with Magdalena Stysiak. That helped the Rosablù to close the leading gap of Chieri, but a lucky net ace and a great team effort earned the away team the first set.
The second set started well for both teams but Monza took an early lead with great attacking proficiency by the whole team. Coach Bregoli brought Grobelna in to try and turn things around but the home team led the set easily and closed it 25-15 with an ace from its middle-blocker Sonia Candi.
The third set was played point to point until Serbian youngster Katarina Lazović had an excellent service streak and gave the home team a 15-9 lead. Bregoli decided to bring in Grobelna again but the fabulous attacking trio Lazović, Stysiak, and Gennari gave Monza a third set win by 25-20.
The last set was completely under control for the home team, with an amazing 71% attacking proficiency from Lazović that gave the home team a smashing 25-13 victory. Therefore, Monza earned their first win of the season by 3-1 with a great performance from its spikers, with a total of 28 points by the Polish star Stysiak, 16 points by Lazović, and 15 by Gennari. As for the away team, the top scorers were Alhassan and Villani with 14 points each.
FULL SQUAD– VERO VOLLEY MONZA
Setters: Alessia Orro (1), Jennifer Boldini
Middle-Blockers: Anna Danesi (7), Katerina Zakchaiou (6), Sonia Candi (1), Gaia Moretto
Spikers: Katarina Lazovic (16), Magdalena Stysiak (28), Alessia Gennari (15), Lise Van Hecke (2), Brankica Mihajlovic (1), Anna Davyskiba
Libero: Beatrice Parrocchiale, Beatrice Negretti
Coach: Marco Gaspari
FULL SQUAD– REALE MUTUA FENERA CHIERISetters: Francesca Bosio (1), Asia Bonelli
Middle-Blockers: Rhamat Alhassan (14), Alessia Mazzaro (4), Camilla Weitzel (1), Francesca Guarena
Spikers: Helena Cazaute (5), Elena Perinelli, Alexandra Frantti (5), Kajka Grobelna (8), Francesca Villani (14), Yagmur Karaoglu
Libero: Chiara De Bortoli, Martina Armini
Coach: Giulio Cesare Bregoli
Vbc Trasporti Pesanti Casalmaggiore experienced a bad awakening after the big win against Savino Del Bene Scandicci in the first round. They were quite clearly defeated by the vice-champions Igor Gorgonzola Novara, who played without two major starters – Chirichella and Daalderop. Turkish Ebrar Karakurt tallied 15 points for Novara, while American Micha Hancock served five aces.
The champions Prosecco Doc Imoco Volley Conegliano spoiled the home debut of Acqua & Sapone Roma Volley Club, who joined the Italian topflight after 23 years, and now played the first match in front of their own crowd since then. With 18 points, Paola Egonu led Imoco to the 67th straight victory. Dutch Robin de Kruijf set up four blocks, while American Megan Courtney had 89 % reception (18 digs, one error, 56 % perfect).
2021/22 Serie A1 – regular season, Round 2 (today's matches):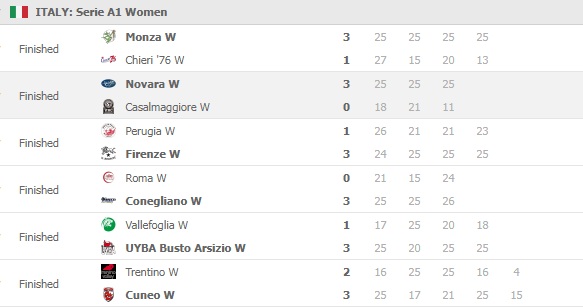 AUTHOR: Lucia M. Lecouna

Sports Data Scout and Journalist
A former student of Communication and Media at the IULM University, sports journalist that focuses on Football, Volleyball and Basketball. 

https://www.linkedin.com/in/lucia-l-914710139
Contact mail: lulile(at)gmail.com