Cucine Lube Civitanova have proven too strong for Vero Volley Monza in Round 11 of the 2021/22 Italian Men's Volleyball Championship.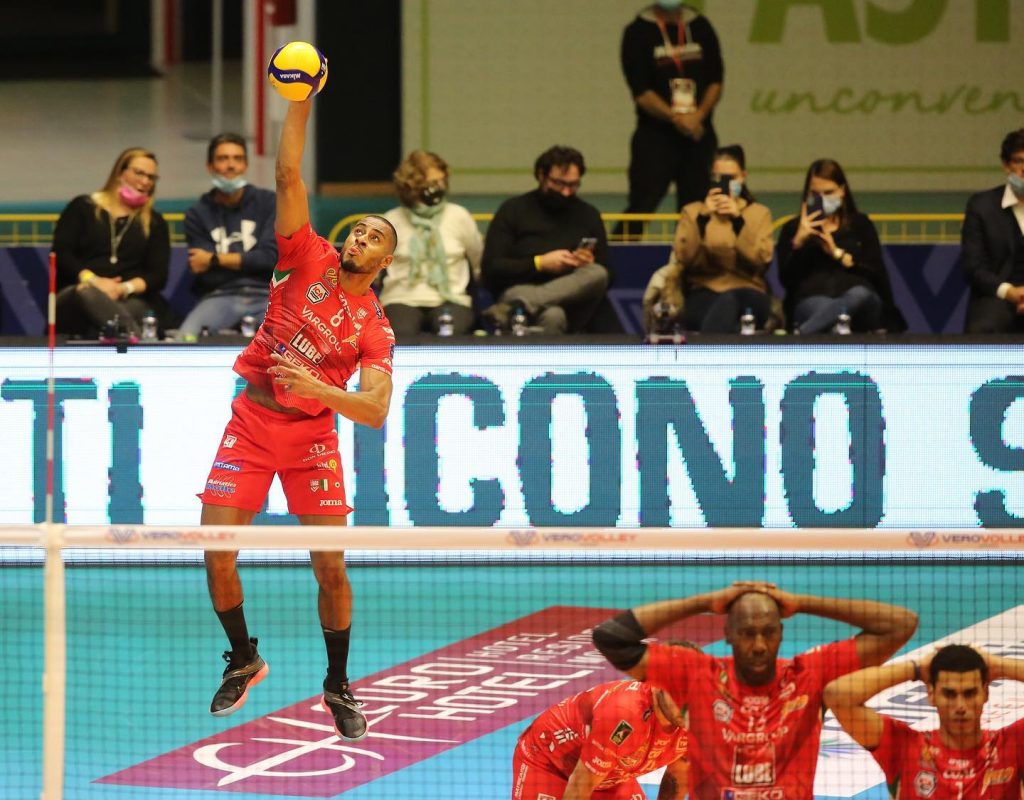 Three days after the victory that gave them the lead of the SuperLega Credem Banca 2021-2022 , Massimo Eccheli's Vero Volley Monza returned to court to the Arena di Monza to face the reigning champions Cucine Lube Civitanova for the anticipated match of the eleventh round of the regular season.
The rossoblù were aiming to give continuity to their astonishing positive start of the year and to maintain their home unbeaten record. Monza, out of three matches played in front of its own public, so far, had lost only one set, against Modena on its debut. However, Blengini's team was ready for the challenge, Lube gained their fourth victory of the season.
and ended Monza's streak led by an unstoppable Lucarelli who scored 8 aces.
1st set: Lube started 0-3 ahead with Monza's serve mistakes and a huge block by Lucarelli. Grozer scored the first point for his team, and then Dzavoronok hits the first ace of the game to evens things 5-5; The set was tight until two consecutive aces from Lucarelli bring Lube back ahead. Eccheli stopped the game to give Monza a break, but Lucarelli was still too strong on service he kept forcing and gave a wider advantage to the away team who drifted away and took a comfortable 13-17 advantage. Too many serve mistakes from Vero Volley on this set did not allow them to do much and Juantorena closed the set for Lube 21-25.
2nd set: Lube started leading again but Monza was not ready to give up yet and immediately drew 3-3, but the home team continued to make many serve errors and Lube takes advantage of it to lead 5-7; Lube kept this advantage throughout the set forcing Monza's coach to call time out several times. Civitanova flies away on De Cecco's serve to gain an 8-16 lead. Vero Volley tried to react but Lube was too strong, Karyagin entered the court for Davyskiba but Juantorena and Lucarelli crushed all the remaining hopes of Monza, Lube took the second set 17-25.
3rd set: Civitanova went out to court focused on finishing the job and took devastating advantage with Lucarelli who scored 3 consecutive aces and a fantastic attacking percentage Lube lead 1-10. Grozer tried to give his team some confidence but there was not much they could do, Lucarelli was unstoppable, the home team recovered some points but the gap was too big and Simon scored the last point of the match to give Lube the 3rd set by 16-25
Itas Trentino put an end to their own two-game losing streak, beating Consar RCM Ravenna in straight sets. Giulio Pinali top-scored the winning side with 16 points. Daniele Lavia set up five blocks.
2021/22 SuperLega Credem Banca – regular season, Round 11 (today's matches):
AUTHOR: Lucia M. Lecouna

Sports Data Scout and Journalist
A former student of Communication and Media at the IULM University, sports journalist that focuses on Football, Volleyball and Basketball. 

https://www.linkedin.com/in/lucia-l-914710139
Contact mail: lulile(at)gmail.com