In an electrifying Game 4 of the Play Off Quarterfinals, Cucine Lube Civitanova managed to level the score against WithU Verona, extending the Series to Game 5.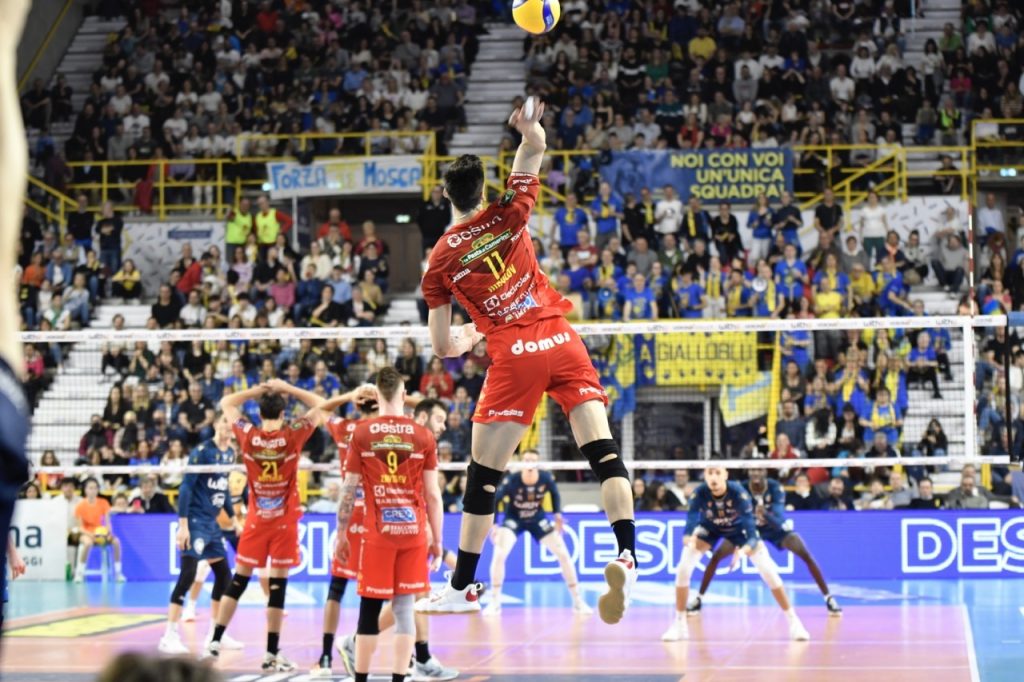 The match was a nail-biter from the start, with Verona taking an early lead and Civitanova struggling to catch up. However, the guests' determination paid off, and despite closing the gap, Verona closed the first set with two point by Keita.
The second set was more evenly matched, but Verona attempted to pull ahead. However, Lube didn't lose their confident and kept the score tied with two aces by Nikolov. Blengini's team then got back on track, overpassed Verona, and leveled the match on 1-1.
Verona promptly reacted in the next set and dominated especially in attack, leaving small chance for their opponents to respond. However, Civitanova cancelled three set points and overturned the result by great serves display of Marlon Yant. The match remained fiercely contested even when they returned to the court in fourth set. In the end, reigning Italian Champions sealed the contest with a block, claiming a hard-fought victory.
The match was marked by great performances from both sides, with Nikolov scoring 22 points and winning the MVP award. Keita and Sapozhkov also shone for the home team, scoring 25 and 21 points respectively. The two teams will now face each other in Game 5 on Saturday, April 8th with everything still to play for. It promises to be an intense and thrilling encounter.
WithU Verona vs Cucine Lube Civitanova 1-3 (25-20, 23-25, 26-28, 24-26)
WithU Verona: Spirito, Keita 25, Grozdanov 7, Sapozhkov 21, Mozic 19, Mosca 3, Gaggini (L), Zanotti, Vieira De Oliveira, Cortesia, Magalini, Bonisoli, Cavalcanti, Jensen, Coach: Stoytchev.
Cucine Lube Civitanova: De Cecco 3, Yant Herrera 17, Chinenyeze 8, Zaytsev 17, Nikolov 22, Anzani 4, Bottolo 2, Garcia Fernandez 1, Balaso (L), D'Amico (L), Diamantini, Ambrose, Gottardo, Sottile, Coach: Blengini.
Quarterfinals – Play Off SuperLega Credem Banca – 4th Game
April 1, 2023
WithU Verona vs Cucine Lube Civitanova 1-3 (25-20, 23-25, 26-28, 24-26)
April 2, 2023
Gas Sales Bluenergy Piacenza vs Valsa Group Modena
Allianz Milano vs Sir Safety Susa Perugia

Vero Volley Monza vs Itas Trentino
Quarterfinals – Play Off SuperLega Credem Banca – 5th Game
April 8, 2023
Cucine Lube Civitanova vs WithU Verona