The regular season of the Korean V-League concluded with the match between Samsung Bluefangs and Incheon Korean Air Jumbos. Despite being the overall leader and defending champion, KAL Jumbos lost to Samsung with a score of 0-3. The match lacked any excitement as Korean Air had already secured their place in the playoff finals by finishing first in the regular season, while Samsung finished in last place and ended their season.
By finishing in second place, Cheonan Hyundai Capital Skywalkers have earned their spot in the semifinals. Meanwhile, a single match will determine the second semifinalist between third-place Seoul Wooricard Wooriwon and fourth-placed Suwon KEPCO Vixtorm.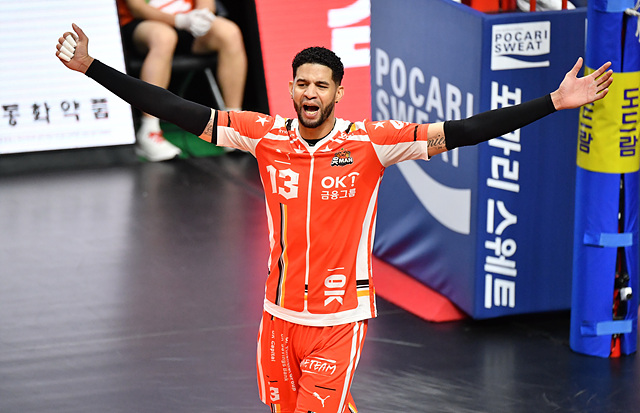 Leonardo Leyva Martínez secured the top scorer position in the regular season, with Thijs ter Horst and Ahmed Ikhbayri taking second and third place, respectively.
Formula:
Regular season made up of 6 round-robin matches, for a total of 36 games per team.
Playoff: The first goes directly to the final (best-of-five format); the second will advance in the semifinal (best-of-three format); the third goes to the semifinals if the difference between the fourth placed team is greater than 3 points, otherwise the third and fourth placed teams will face each other in a one match to decide the second semifinalist.
March 19, 2023
Samsung Bluefangs vs Incheon Korean Air Jumbos 3-0 (25-20, 25-22, 25-22)
| | | | |
| --- | --- | --- | --- |
| Team | Points | Win | Lost |
| INCHEON KOREAN AIR JUMBOS | 76 | 26 | 10 |
| CHEONAN HYUNDAI CAPITAL SKYWALKERS | 67 | 22 | 14 |
| SEOUL WOORICARD WOORIWON | 56 | 19 | 17 |
| SUWON KEPCO VIXTORM | 53 | 17 | 19 |
| OK FINANCIAL GROUP OKMAN | 48 | 16 | 20 |
| UIJEONGBU KB INSURANCE STARS | 42 | 15 | 21 |
| SAMSUNG BLUEFANGS | 36 | 11 | 25 |