One of the biggest city derbies in European women's volleyball, the derby of Lodz, was held within the ninth round of the 2021/22 Polish Championship.
'Derby Łodzi' always brings exciting matches, which rarely ends in three sets. So was tonight. ŁKS Commercecon Łódź beat Grot Budowlani Łódź 3-2 (25-20, 25-27, 21-25, 25-11, 15-13) in Round 9 of the 2021/22 TAURON Liga. Before the meeting, the two city rivals were side by side in the standings. ŁKS, who now made a three-game winning streak, were fifth, while Budowlani were sixth. Now, ŁKS moved up to the third place, escaping fierce rivals by three points (18 to 15).
American Veronica Jones-Perry top-scored the winning side with 21 points. Kamila Witkowska set up six blocks. Cuban Ana Cleger from Budowlani scored match-high 22 points. Martyna Łazowska had four blocks.
2021/22 TAURON Liga – regular season, Round 9: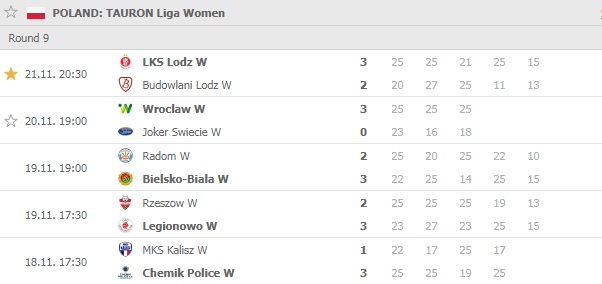 November 22
Polskie Przetwory Pałac Bydgoszcz – UNI Opole