Aluron CMC Warta Zawiercie are one step away from advancing to the playoff finals of the 2021/22 Polish Men's Volleyball Championship.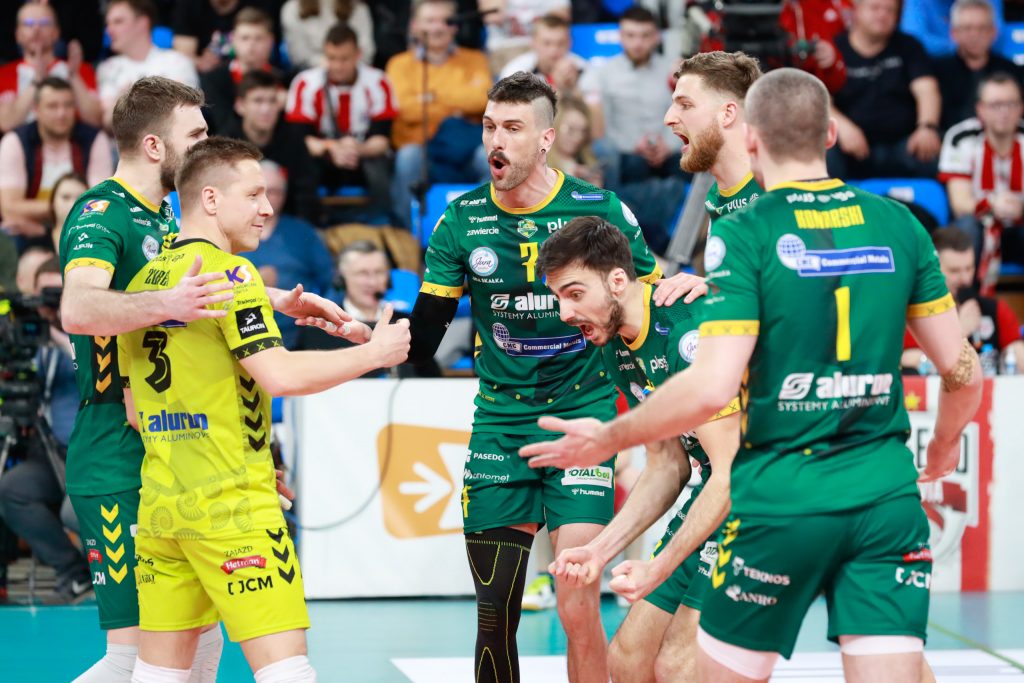 Everyone was rubbing their hands when they saw that Grupa Azoty ZAKSA Kędzierzyn-Koźle and Aluron CMC Warta Zawiercie will meet in the semi-finals of the 2021/22 PlusLiga given that the two sides play very attractive volleyball. However, great emotions were lacking as, surprisingly, the 4th-seed dominated the regular-season winners for the full 3 sets, which was followed by a loss in the opening set: ZAKSA vs Aluron 1-3.
Led by Argentine Facundo Conte (23 points), the 'Jurassic Knights' had a huge lead during the 2nd set (18-11), 3rd set (21-16), and 4th set (13-7) before ultimately staging an upset. To remain in contention for entering the series for the title again, ZAKSA will have to take Game 2, otherwise, Aluron will advance to the grand finale.
Prevailing at home in Game 1 of the other semi-final with a score of 3-0, the regular-season runners-up Jastrzębski Węgiel continued their great series of wins against PGE Skra Bełchatów (No.3). The last time they lost to Skra in PlusLiga was in February 2017.
The Czech Jan Hadrava top-scored 'The Hawks' today with 17 points (4 aces). Ukrainian Jurij Gladyr set up 4 blocks.
2021/22 PlusLiga – playoff semi-finals, Game 1: