GKS Katowice defeated PGE Skra Bełchatów 3-2 (27-25, 24-26, 25-20, 27-29, 15-11) in the match of the 25th round of the PlusLiga! For Bełchatów, it is a continuation of bad performances and results in the championship. This was their eighth consecutive defeat in the Plusliga (they have good results in the CEV Cup where PGE Skra reached the semi-finals and will meet the Italian Valsa Group Modena). Bełchatów last win in PlusLiga was on December 22, 2022 in a 5-set match against last-placed Bielsko-Biala.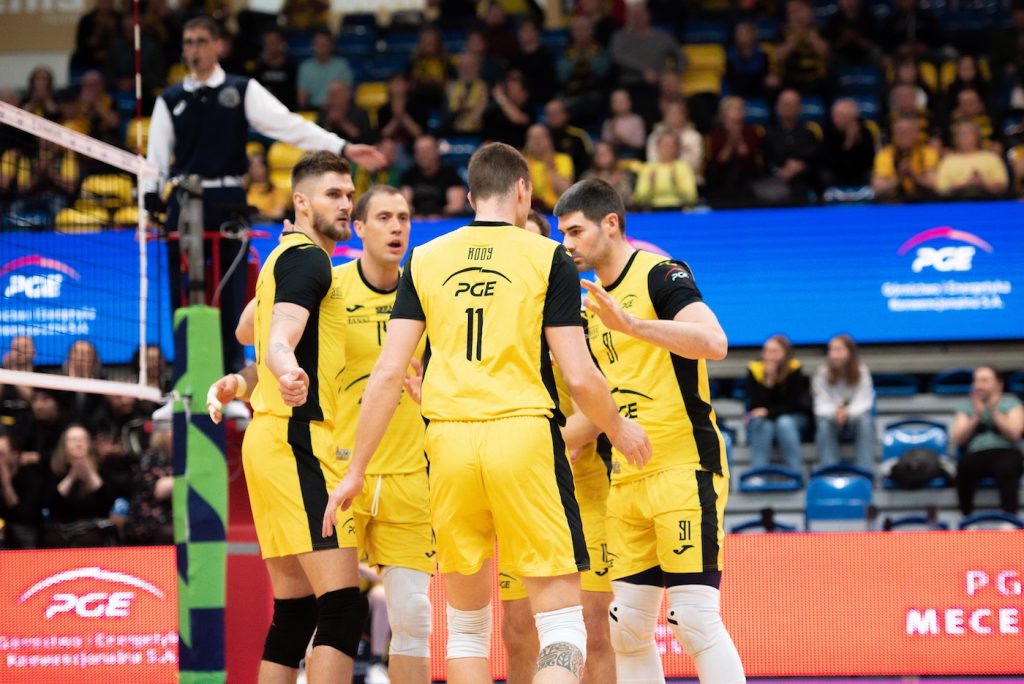 For Katowice, Damian Domagala scored 24 points, Jakub Szymański added 23, and Gonzalo Quiroga 19 points. At PGE Skra Bełchatów, the most effective were Mateusz Bieniek with 18 and Filippo Lanza with 16 points.
After this victory, Katowice climbed to 12th place in the standings, while Bełchatów remained in 11th place. The last match of the 25th round between Ślepsk Malow Suwałki and Grupa Azoty ZAKSA Kędzierzyn-Koźle is scheduled for March 21, 2023.
Plusliga – Round 25
February 17, 2023
BBTS Bielsko-Biała – PSG Stal Nysa 0-3 (23-25, 15-25, 17-25)
February 18, 2023
Asseco Resovia Rzeszów – Luk Lublin 3-1 (22-25, 29-27, 25-18, 25-17)
Cuprum Lublin – Cerrad Enea Czarni Radom 3-2 (18-25, 25-19, 24-26, 25-19, 15-12)
Barkom Każany Lwów – Jastrzębski Węgiel 0-3 (10-25, 20-25, 14-25)
February 19, 2023
Trefl Gdańsk – Aluron CMC Warta Zawiercie 1-3 (25-21, 17-25, 23-25, 14-25)
Projekt Warszawa – Indykpol AZS Olsztyn 3-1 (26-24, 25-19, 21-25, 25-16)
February 20, 2023
PGE Skra Bełchatów – GKS Katowice 2-3 (25-27, 26-24, 20-25, 29-27, 11-15)
March 21, 2023
Ślepsk Malow Suwałki – Grupa Azoty ZAKSA Kędzierzyn-Koźle
STANDINGS
1. Asseco Resovia Rzeszów 59
2. Aluron CMC Warta Zawiercie 56
3. Jastrzębski Węgiel 55
4. Grupa Azoty ZAKSA Kędzierzyn-Koźle 49
5. Projekt Warszawa 49
6. Trefl Gdańsk 41
7. Indykpol AZS Olsztyn 40
8. PSG Stal Nysa 40
9. Ślepsk Malow Suwałki 38
10. LUK Lublin 34
11. PGE Skra Bełchatów 31
12. GKS Katowice 26
13. Cuprum Lubin 25
14. Barkom Każany Lwów 24
15. Cerrad Enea Czarni Radom 14
16. BBTS Bielsko-Biała 8