I've been watching a lot of old videos, studying the past, trying to understand where we are, looking to recycle the past into something for the future. I stumble across lots of forgotten, or never noticed, gems. One of those are the timeouts of Marv Dunphy during the Olympic Gold Medal run of 1988.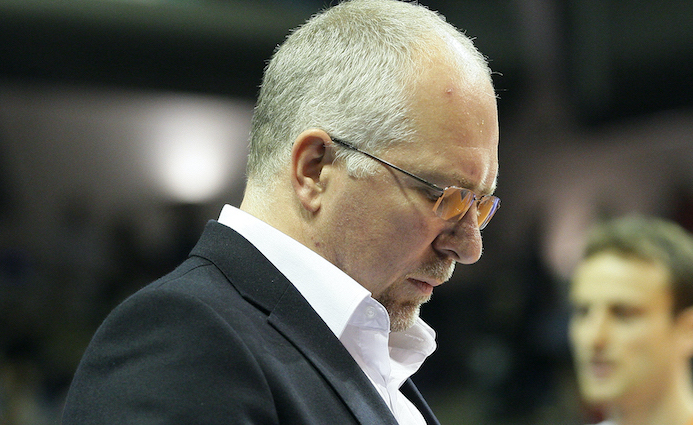 If you crawl around You Tube and pay attention to such things, you will notice that the NBC coverage differs slightly from the international feed. One of those differences is that NBC has a cameraman and microphone on Marv Dunphy during set breaks and timeouts. So it is possible to see and hear how he interacts with his team.
Without wanting to spoil anything, he is, as renowned, quiet and focused and has a good rapport with his players. He only says what is necessary and lets other speak.
UNTIL they are about to win the gold medal. In his very last timeout of the final he can't stop talking, even chasing players onto the court to give them a last piece of information. I guess it was an important moment and a little stress is okay.
Enjoy the clip here for yourself.
About Mark Lebedew:
Mark Lebedew authors the At Home on the Court Blog. He coaches professionally in Poland, from january 2021 with eWinner Gwardia Wrocław, in season 2019/20 with Aluron Virtu CMC Warta Zawiercie and in the period 2015-2018 with KS Jastrzębski Węgiel. That follows five seasons Germany where his Berlin Recycling Volleys won three straight league titles and a CEV Champions League bronze medal. He has prior professional experience in Belgium and Italy. Mark was also Head Coach for the Australian Men's National Team. From 2021/2022 leads VfB Friedrichshafen, while from this national team season he is at the helm of the Slovenian national team.
Mark partnered with his brother and father to translate and publish "My Profession: The Game", the last book by legendary Russian coach, Vyacheslav Platonov.
With John Forman, he is behind the Volleyball Coaching Wizards project (link http://volleyballcoachingwizards.com/) which identifies great coaches from all levels, making their experience, insights, and expertise available to people all over the world. The project has produced multiple books, a in e-book format available here ( link to http://bit.ly/34yakou ) or at Amazon here (link https://amzn.to/2JRqTE6).
In 2021, he launched project Webinars and Presentations on Demand. If you are interested for coaching presentations and webinars available on demand, click here.