An interview with Voukeng Mbativou Christian Arthur, the middle blocker from Cameroon who is currently playing in Turkey, should be a normal interview with a focus on volleyball.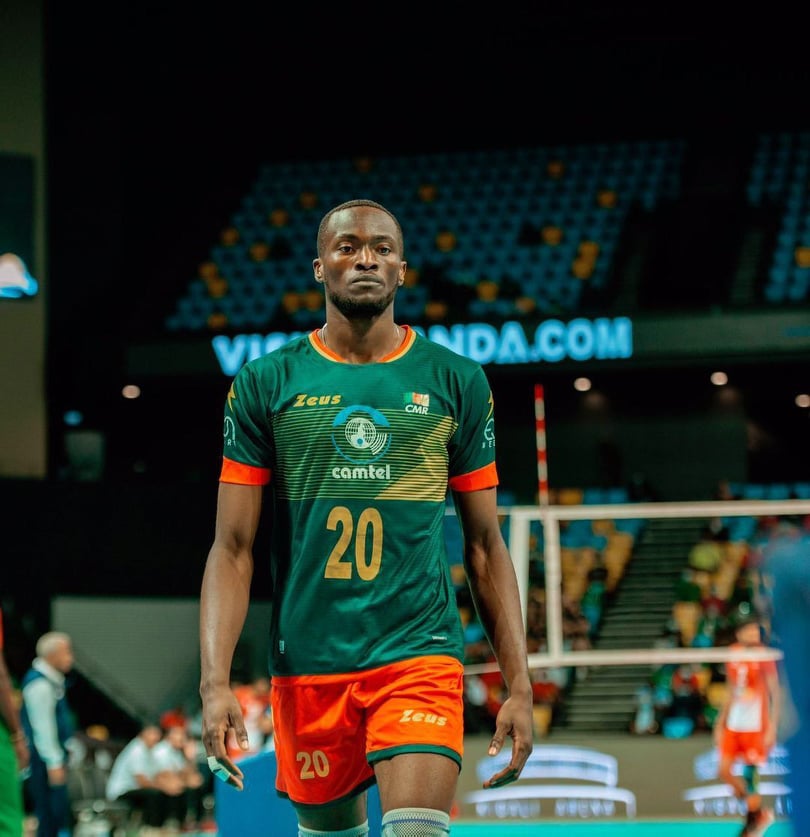 However, this guy has shared an amazing and inspiring story of how one volleyball player can be an entrepreneur at the same time.
You know the story that half of the professional athletes don't know how to invest money or how to spend money well to avoid bankruptcy after ending a career. Well, Arthur Voukeng is not one of them.
Let's start from the volleyball part of the interview:
You are playing in Turkey, what are your impressions about the league and country?
"Turkey has one of the top world leagues and eventually top talented players. The country is a focal point of some major volleyball events in Europe and the World, I feel comfortable and confident in this kind of environment. The league is very organized obviously and the players have a huge motivation in every game. The country itself is heart-warming and I am getting used to the food. I can't ignore also the economic aspect of the country with is an important business hub in Europe and share a good bilateral relationship with Africa and my country Cameroun."
Afyon has 12 defeats and 2 wins – what does your team lack to have better results?
"I came into the club one month ago, Afyon Club is a dynamic club with a lot of potentials. I believe that they did their best during the first part of the league. I watched some of the 13 previous games with two beautiful wins and some defeats in the tie break, we can do better in this second part of the regular season. My job for the next 13 matches is to give my best to reach the playoffs together with the team because I really love winning."
In the last season, you played in Egypt. How the things go there for you?
"Yes, I started my season in Zamalek club in Egypt, It was excellent but I could not complete the season there because of the offer from the Turkish Superleague. It is very important for any player in the world to play in one of the top leagues, it's not about the money, it's about the status, opportunities, better organization and infrastructure, these things always help athletes to show their most unexpected potential."
What are your future plans regarding volleyball?
"I have extreme plans with Volleyball, I'd like to share a personal story first. I discovered volleyball in 2014 at a little training center called "Cite U Volleyball" founded by coach Yende Lavoisier who later gave me the chance to play in University team, I fell in love with the discipline and decided I will become one of the best, I joined the national team 2016/2017 and became what the world know about me today… I went through a lot of struggle to get to this spot and I don't want to stop, I want to finish my career in the best world leagues, with the best team because I will work to deserve it. Some of my plans with Volleyball a post-career plans and for now they remain undisclosed, maybe when the time comes I few years WorldofVolley will have exclusive insights about it."
Have volleyball improved in Cameroon recently or it needs a lot more time to gain some better level?
"Volleyball in its general spirit and assessment is growing in my country Cameroon, mostly at the level of national teams, from my observation the Cameroon federation president Serge Abouem and executive office have set major strategies for national teams, the results are obvious at the level of performance. I believe more should be done at the level of the local championship for the local talents. The Cameroon Volleyball lack marketing and subsidiary setups to build a major African league which can be sustainable and attractive."
When you finish with volleyball training sessions and matches, what do you do in your free time?
"After volleyball, I am extremely busy, because I am an entrepreneur and lead the ALM Holding which has 2 active companies ALM creative studios and BigBang which I founded in 2013 and 2019 respectively. These two companies are communication, marketing and design for the ALM creative studio and Technology like software construction, big data, cyber security, web design and Iot for Bigbang Ltd for a team of more than 40 people. I am also chairman of Domino Charity International which is a humanitarian organization I founded in 2011, for the past decade we have supported thousands of vulnerable children across Cameroon. Multiple projects both on the ALM Holding and with the NGO Domino Charity International. Actually, I have no rest, I sleep just enough for recovery and I have not had any holiday for the past 6 years, says Arthur Voukeng, who keeps explaining his entrepreneur's story:
"After building one of the very important innovative accounting software in Cameroon and Africa we are heading into sports technology. I made the announcement a few days ago, I will be investing 200.000 dollars into the "Tyson20 Lab" as part of the seed funding to start research and development of sports technology with a few products especially for volleyball. We have chosen three main domains of sports technology which are wearables like bracelets and patch sensors, both associated with athlete efforts physiology and biomechanics. The second domain is data analytics through the construction of adaptative software which will be data collective and maybe an open source for just our equipment and software, and finally, the development of non-conventional communication assets between sports organizations such as clubs and their fans, ameliorate the communication targeting through the use of web and mobile application amongst other assets to continue spreading the magic of sports. The insights are alarming, The sports technology industry represented close to 17 billion dollars investment last year, and the sports industry as a whole represented more than 500 billion dollars investment, due to the Covid crisis, the ratio of investment in the sports Technology will rise geometrically, we hope to be one of the important African based start-ups who will represent growth in the tech sports industry, we plan to raise 3 million dollars after making our first prototypes are officially out. My focus will be the market acquisition because in the rapidly innovative world, real Innovation has become the capacity to sell, the difference is in the capacity to make and sell these products. As a Volleyball player, I have learned a lot about teamwork and the value of a team, I always push every collaborator to give his full potential because the projects and ambition are huge as compared to the resources we have which are somehow limited. We want to take bold steps always to do all the possible and impossible things."
What are you planning to do after volleyball?
"After volleyball, my lifestyle will not change much, my ambitions are still whole about the impact and building sustainability economic organizations and social relief projects through Domino Charity International. I shall spend more of my time teaching and learning. Maybe I will be more comfortable completing my Master and Ph.D. in medical microbiology and Physiology but I am not sure because I don't see the essential use for me, I would rather further my comprehension of technology and find different ways of making the world more suitable for the humans we are. Inside of me I know I am a Globetrotter so I will travel always to get inspired from the world and its people."