Osasco São Cristovão Saúde beat Sesc RJ Flamengo in an exciting "clássico" of the Brazilian Women's Volleyball Championship that lasted for almost two and a half hours (2hr 27m).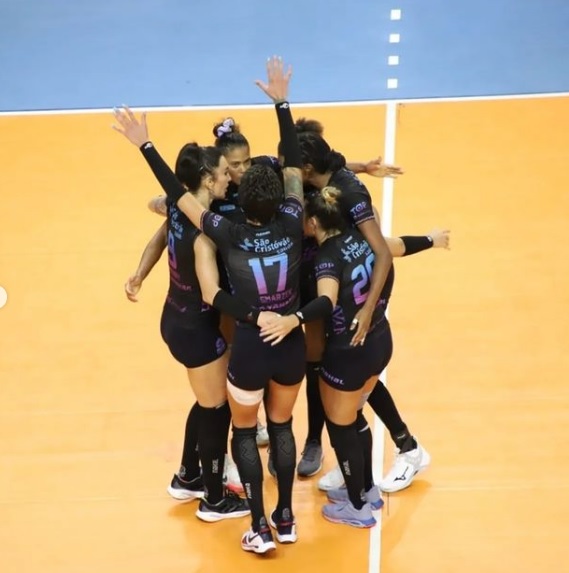 Osasco beat Sesc at home in front of nearly 4,500 spectators by 3 sets to 1, where each set had to be resolved in overtime. The biggest classic of the Brazilian women's club volleyball between the two teams that collected 11 national titles combined was valid for Round 12 of the 2022-23 1XBET Superliga Feminina. As expected, the confrontation was exciting, just like in the first half of the regular season when Osasco also triumphed. Special mention should be made of the third set, which lasted for 40 minutes and saw the comeback of Osasco after a 10-point deficit (5-15) followed by even missing the chance of a match point. The team from São Paulo claimed the vice-leadership after a win in the "clássico" today, having nine points fewer that the leaders Dentil Praia Clube, which are 12-0.
Out of five double-digit players on the Osasco roster, the best scorer was veteran middle blocker Adenízia Silva (20 points; 5 blocks). Tifanny Abreu made an 80% reception (10 digs, 1 error, 30% excellent). American Veronica Perry topped the scoring for Sesc with 21 points, while Laís Vasques had 92% reception (24 digs, 1 error, 50% excellent). In fact, overall, the Rio-based side was excellent in reception, with 87%, but it didn't help them avoid their sixth defeat in the competition, as they remained in sixth place in the standings.
2022-23 1XBET Superliga Feminina, regular season, Round 12: