The draw for the group stage of the Men's CEV Champions League Volley 2023 'reunited' the reigning titleholders and runners-up.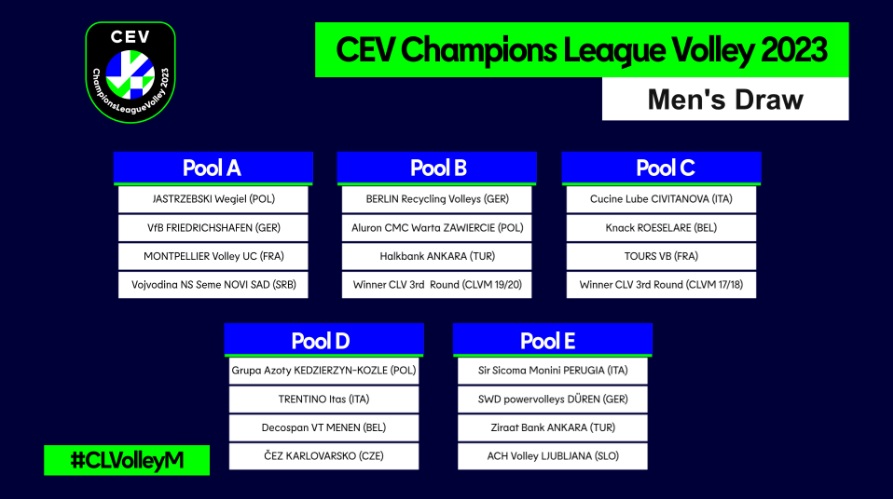 Poland's Grupa Azoty Kędzierzyn-Koźle (ZAKSA) and Italy's Trentino Itas found each other again. The two teams that locked horns in the final of the last two editions of the Men's Champions League were brought together in Pool D of the next season's edition of the competition.
The first-classified from each of the five pools will go directly to the quarter-finals, while the second and the best of the third-placed sides will compete in the Play-Offs (the novelty compared to the last edition). Finally, the remained third-placed clubs will return to play in the quarter-finals of the CEV Cup.
The lots that were drawn tonight in Brussels, Belgium, unveiled the pool composition (it will start between November 8 and November 10 and end on January 25) of the most elite club tournament for men in the 'Old Continent' as follows:
POOL A: Jastrzębski Węgiel (Poland), VfB Friedrichshafen (Germany), Montpellier Volley UC (France), Vojvodina NS Seme Novi Sad (Serbia).
POOL B: Berlin Recycling Volleys (Germany), Aluron CMC Warta Zawiercie (Poland), Halkbank Ankara (Turkey), the team qualified from the preliminaries.
POOL C: Cucine Lube Civitanova (Italy), Knack Roeselare (Belgium), Tours VB(France), the team qualified from the preliminaries.
POOL D: Grupa Azoty Kedzierzyn-Kozle ZAKSA (Poland), Trentino Itas (Italy), Decospan VT Menen (Belgium), ČEZ Karlovarko (Czech Republic).
POOL E: Sir Sicoma Monini Perugia (Italy), SWD powervolleys Düren (Germany), Ziraat Bank Ankara (Turkey), ACH Volley Ljubljana (Slovenia).