The draw for the group stage of the next women's CEV Champions League took place today in Brussels.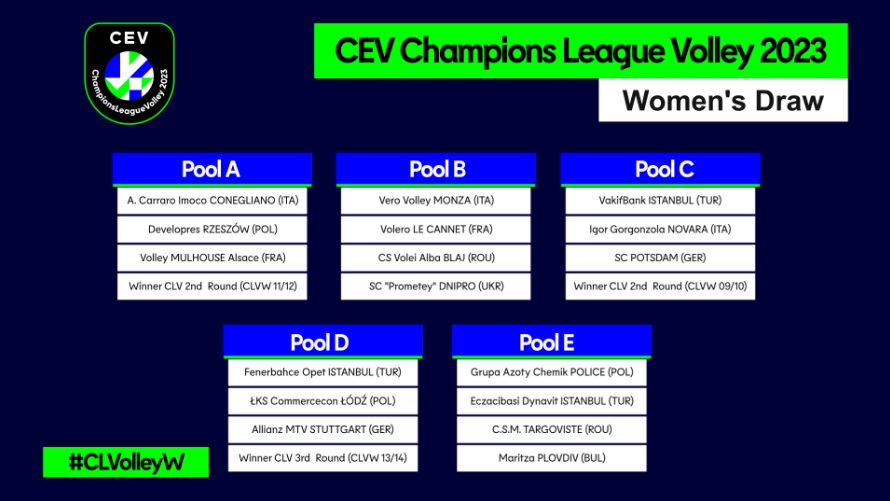 The Drawing of Lots for the group stage of the Women's CEV Champions League Volley 2023 in the capital of Belgium had two protagonists that excelled in the past edition of the tournament – Isabelle Haak and Kamil Semeniuk. Just when they thought they would take a break from her powerful attacks after several seasons, Italy's Igor Gorgonzola Novara got Paola Egonu again as the rival – in the pools (Pool C). To be more precise, the Serie A side got the reigning titleholders, VakıfBank İstanbul, from Turkey, the club to which Egonu moved this summer, as rivals.
The first-classified from each of the five pools will go directly to the quarter-finals, while the second and the best of the third-placed sides will compete in the Play-Offs (the novelty compared to the last edition). Finally, the remained third-placed clubs will return to play in the quarter-finals of the CEV Cup.
Here's the pool composition (the matches of this phase will start on December 6 and December 8, and end on February 8):
Pool A: A.Carraro Imoco Conegliano (Italy), Developres Rzeszów (Poland), Volley Mulhouse Alsace (France), the team qualified from the preliminaries.
Pool B: Vero Volley Monza (Italy), Volero Le Cannet (France), CS Volei Alba Blaj (Romania), SC "Prometey" Dnipro (Ukraine).
Pool C: VakıfBank İstanbul (Turkey), Igor Gorgonzola Novara (Italy), SC Potsdam (Germany), the team qualified from the preliminaries.
Pool D: Fenerbahçe Opet İstanbul (Turkey), ŁKS Commercecon Łódź (Poland), Allianz MTV Stuttgart (Germany).
Pool E: Grupa Azoty Chemik Police (Poland), Eczacıbaşı Dynavit İstanbul (Turkey), C.S.M. Târgoviște (Romania), Maritza Plovdiv (Bulgaria).