Eczacibasi Dynavit and Fenerbahce Opet secured their spots in the semifinals of the CEV Champions League after two thrilling matches on Thursday evening.
In the first match of the evening, Eczacibasi Dynavit faced off against Developres Rzeszów. Eczacibasi only needed to win two sets to advance to the semifinals, as they had already won the first duel 3-1. However, Developres had other plans and set the bar high for the hosts.
The match was a hard-fought battle that went down to the wire. Eczacibasi ultimately secured their place in the semifinals with a 3-2 victory (20-25, 25-19, 24-26, 25-21, 15-8). Despite a strong performance from the Polish team, Eczacibasi's Serbian duo Maja Ognjenovic and Tijana Boskovic powered their team to victory. Tijana Boskovic, who scored 30 points (25 attacks, 4 blocks, 1 ace) and recorded a 48% attack rate, was named the MVP of the match, Irina Voronkova added 16 points for Eczacibasi. For Developres Rzeszów Gabriela Orvosova was the most efficient player with 21 points, and Ann Kalandadze added 17.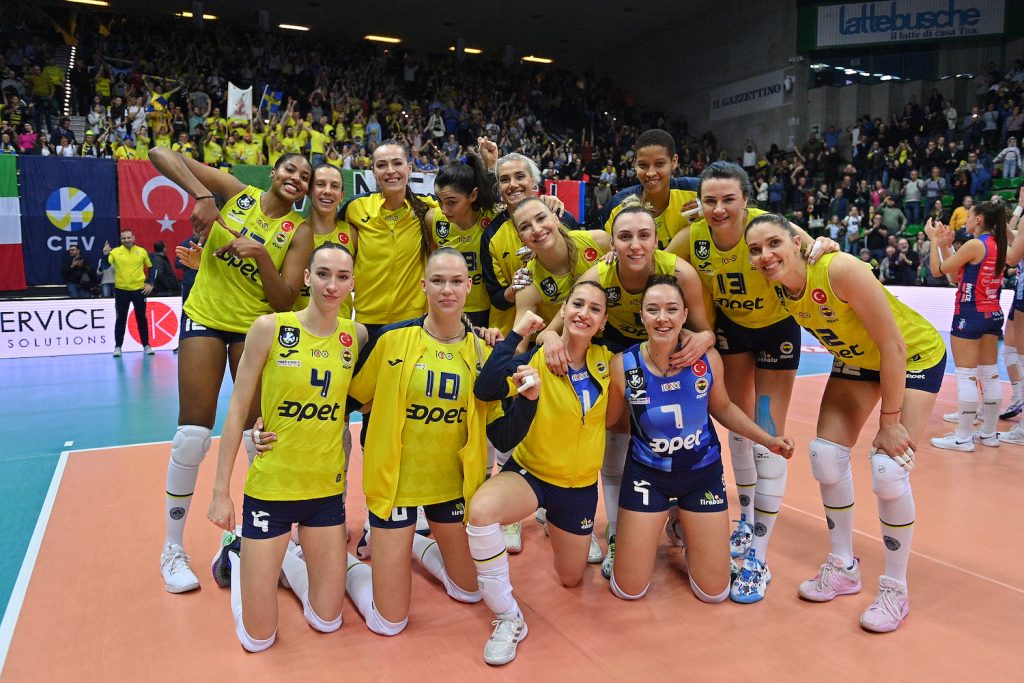 The second match of the evening was a crème de la crème matchup between A.Carraro Imoco Conegliano and Fenerbahce Opet. A. Carraro Imoco Conegliano, the SuperFinalists of the last three editions of the Champions League had their backs against the wall after losing the first encounter 0-3. This gave Fenerbahce a big advantage going into the rematch.
Fenerbahce opened the match perfectly, won the first two sets and secured a place in the semifinals. However, A.Carraro Imoco Conegliano showed their fighting spirit and came back to win the next two sets, setting up a thrilling tiebreak, and in the end won the match 3-2 (23-25, 15-25, 25-23, 25-20, 15-13). Arina Federovtseva's unbelievable serving performance was a driving force for Fenerbahce. She made 8 aces (13 points), while Ana Cristina Menezes Oliveira de Souza was the match top scorer with 29 points. Isabelle Haak with 24 points was the most efficient for Conegliano.
CEV Champions League – 1st Leg
Developres Rzeszow (POL) vs Eczacıbaşı Dynavit (TUR): 1-3 (19-25, 25-22, 25-16, 26-28)
Allianz MTV Stuttgart (GER) vs Igor Gorgonzola Novara (ITA) 1-3 (25-21, 16-25, 21-25, 23-25)
VakifBank Istanbul (TUR) vs Vero Volley Milano (ITA) 3-0 (25-18, 25-19, 25-17)
Fenerbahce Opet Istanbul (TUR) vs A. Carraro Imoco Conegliano (ITA) 3-0 (25-19, 25-17, 25-19)
CEV Champions League – 2nd Leg
Vero Volley Milano vs VakifBank Istanbul 2-3 (25-18, 22-25, 25-22, 21-25, 11-15)
March 22, 2023
Igor Gorgonzola Novara vs Allianz MTV Stuttgart 3-0 (25-18, 25-19, 25-21).
March 23, 2023
Carraro Imoco Conegliano (ITA) vs Fenerbahce Opet Istanbul (TUR) 3-2 (23-25, 15-25, 25-23, 25-20, 15-13)
Eczacıbaşı Dynavit (TUR) vs Developres Rzeszow (POL) 3-2 (20-25, 25-19, 24-26, 25-21, 15-8)