The Canada National Team picked up its first 2021 FIVB Women's Volleyball Nations League win.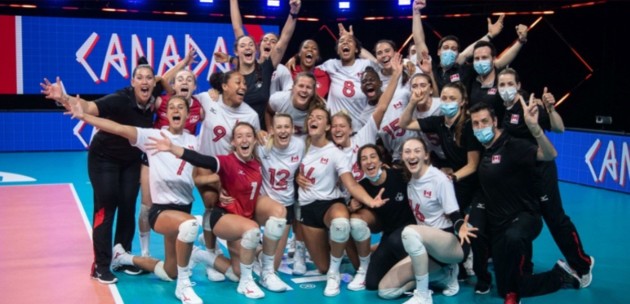 Beating Olympic champions China (without several important players) by a 3-2 (25-22, 21-25, 25-17, 15-25, 15-12), Canada noted down its first win in the 2021 Women's VNL held in the Rimini (Italy) bubble. It took five matches for the North American side to experience the joy of success to which it was led by Kiera Van Ryk (25 points). Canada had 14 blocks (Van Ryk made 5 of them).
Serbia had an easy job against Thailand, who remained winless (0-5). The straight-set win of the world champions (they took two sets by 2 points) was kind of spoiled by the behavior of Ana Jakšić and Sanja Djurdjević, the setter and libero of the winning team, who made a gesture which is considered racially offensive by Asian people. They celebrated a point in the second set by pulling back their eyes with both hands.
It's the place where we should celebrate the sportsmanship, isn't it? We are here for the same passion which is 'volleyball. 💔

______#VNL #VNL2021 #วอลเลย์บอลหญิง #ตบช่วยชาติCheerFromHome pic.twitter.com/69f6J7nutn

— Thailand•Volleyball (@thavolleyball) June 1, 2021
Because of such a gesture, the current Russia Women's National Team head coach Sergio Busato was disqualified for some time two years ago. Katarina Lazović and Sara Carić top-scored Serbia with 14 points each. The latter made 6 out of the team's 18 blocks, while Lazović had 93.3 % digs (14/15).
Led by Kelsey Robinson (13 points, 93.8 % digs; 15/16), the USA swept The Netherlands and kept the perfect score of 5-0.
2021 FIVB Women's Volleyball Nations League – Day 5 (Week 2):
Turkey – Germany 3-0 (25-20, 25-20, 25-22)
Dominican Republic – South Korea 3-0 (25-23, 28-26, 25-18)
Belgium – Poland 3-2 (25-15, 17-25, 25-19, 22-25, 15-12)
Serbia – Thailand 3-0 (25-19, 25-23, 25-23)
China – Canada 2-3 (22-25, 25-21, 17-25, 25-15, 12-15)
USA – Netherlands 3-0 (25-22, 25-15, 25-18)
Italy vs Japan, 7 p.m. CET
Brazil vs Russia, 9 p.m. CET