Earvin Ngapeth and Jean Patry were in the mood in today's game against Russia to lead France to the victory at the FIVB Volleyball Nations League tournament.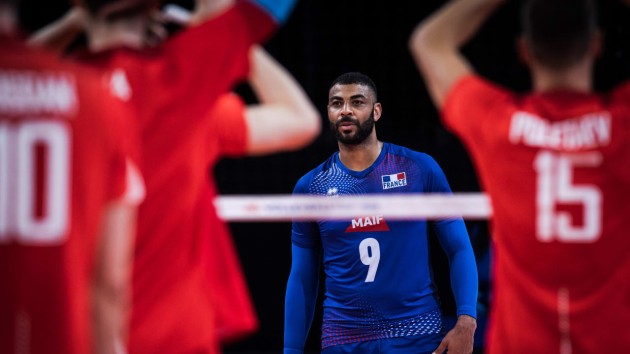 The 3-1 (22-25, 25-18, 30-28, 25-19) score was fueled by 21 points by France star Earvin Ngapeth. Jean Patry contributed with 18 while Egor Kliuka had 15 on the other side.
"We played very well today, especially in block-defense. We had more winning blocks than the Russians, so it's something really crazy for us. We played with a lot of energy, so it was a good match and a good result for us. This is only one game of this long tournament, but it's always important for us to win against teams like Russia. We always play to win. This year the tournament is very long and after there are the Olympic Games, so we also using this tournament for preparation. But every time we play we play to win, at all events," says Earvin Ngapeth.
Slovenia returned to victories, convincingly downing Canada in three sets and extending their record to 5-2 at the 2021 FIVB Men's Volleyball Nations League.
Toncek Stern was the best scorer with 17 points.
"It was not an easy game, because we knew that Canada can play very good volleyball. We came here after one lost game against Germany which we really wanted to win, so we were very motivated today to win this match. It was very important for our ranking and it was also important to gain a victory ahead of the games against France and Russia in the next days," says Klebmen Cebulj.
FIVB Volleyball Nations League, day 7:
Serbia – Germany 3-1 (19-25, 25-22, 25-18, 25-15)
Japan – Australia 3-1 (25-18, 21-25, 28-26, 26-24)
France – Russia 3-1 (22-25, 25-18, 30-28, 25-19)
Slovenia – Canada 3-0 (25-22, 25-19, 25-22)
Argentina – Italy 0-3 (28-30, 21-25, 20-25)
Iran – USA 3-0 (25-19, 25-23, 25-23)
Poland – Bulgaria 3-0 (25-19, 25-15, 25-12)
Netherlands – Brazil, in progress