Serbia have scored an important win at the start of day 7 of the Volleyball Nations League, beating Germany in four. Japan also grabbed a win against Australia to score the fourth out of 7 games.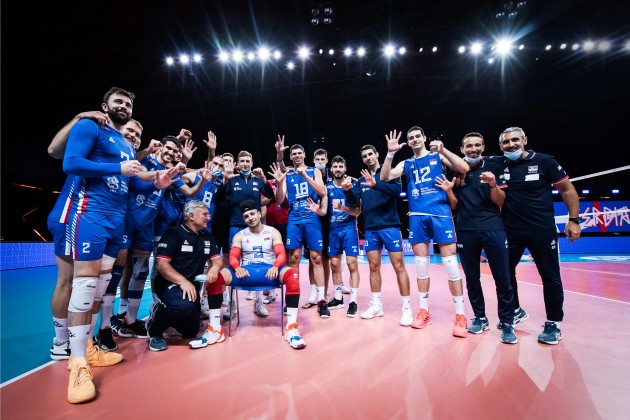 Serbia captured a 3-1 (19-25, 25-22, 25-18, 25-15) victory in their match against Germany. Pabvle Peric and Drazan Luburic were the top scorers for Serbia with 15 points, while Linus Weber scored the same number for Germany.
"I would like to congratulate Germany on a good game, and our team on winning this game. We were losing 0-1, but we managed to win this game 3-1. It was not easy because it was our first game played so early. We played as a total team," says Pavle Peric.
Japan began Week 3 of the men's 2021 FIVB Volleyball Nations League with a victory against winless Australia.
Captain Yuki Ishikawa led the scoring with 22 points in the 3-1 (25-18, 21-25, 28-26, 26-24) victory for the Asian team.
"It was a very tough game. This match ended with a 3-1 win for our team, but there are some small details we have to fix ahead of the next games. This result is the best we could get today. Our sideout worked well and we were good in breakpoints and this was a key to our success," says Naonobu Fujii from Japan.
FIVB Volleyball Nations League, day 7:
Serbia – Germany 3-1 (19-25, 25-22, 25-18, 25-15)
Japan – Australia 3-1 (25-18, 21-25, 28-26, 26-24)
France – Russia 3-1 (22-25, 25-18, 30-28, 25-19)
Slovenia – Canada 3-0 (25-22, 25-19, 25-22)
Argentina – Italy 0-3 (28-30, 21-25, 20-25)
Iran – USA 3-0 (25-19, 25-23, 25-23)
Poland – Bulgaria 3-0 (25-19, 25-15, 25-12)
Netherlands – Brazil, in progress