The China National Team achieved the first win after a series of defeats in the 2021 FIVB Women's Volleyball Nations League.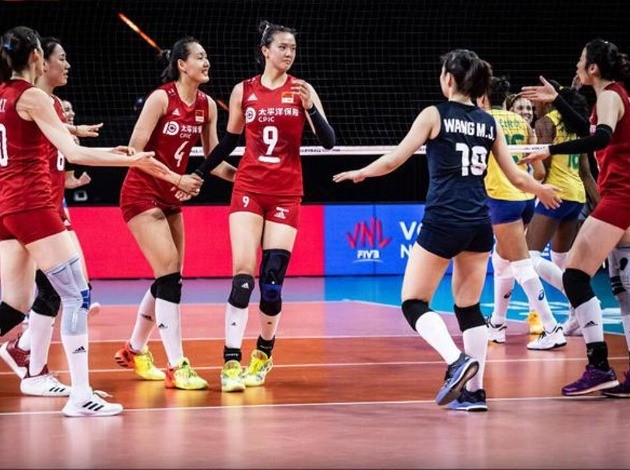 The Olympic champion broke its own four-game losing streak in the 2021 Women's VNL. In a duel of the two giants of the world volleyball, valid for the last round of Week 3, China annulled a confident start of Brazil and earned a five-set win. In the absence of several pillars, Zhang Changning took the leading role on the Asian side, just as in the previous few games, and poured in 36 points. Thus, after five successes in a row, the 'Seleção' suffered a defeat and had to settle for taking one point.
Thanks to 20 points of Andrea Drews, 4 blocks of Foluke Akinradewo, and 81.3 % digs (14/16) of Kelsey Robinson, the USA downed Italy in four sets, interrupting rival's mini-run of two matches. At the same time, a two-time defending VNL champion remained the only undefeated team in the competition.
2021 FIVB Womens' Volleyball Nations League – Day 9 (Week 3):
Thailand – Dominican Republic 0-3 (16-25, 17-25, 23-25)
Turkey – Russia 3-2 (25-22, 22-25, 25-18, 18-25, 15-7)
Canada – Netherlands 0-3 (19-25, 12-25, 21-25)
Japan – Poland 3-2 (22-25, 22-25, 25-22, 25-23, 16-14)
China – Brazil 3-2 (18-25, 25-22, 25-20, 14-25, 15-12)
Germany – South Korea 3-0 (25-12, 25-21, 25-22)
Belgium – Serbia, 3-2 (23-25, 26-24, 25-21, 23-25, 15-10)
Italy – USA 1-3 (18-25, 21-25, 25-20, 16-25)