The Serbia National Team continued its triumphant series in the 2021 FIVB Men's Volleyball Nations League.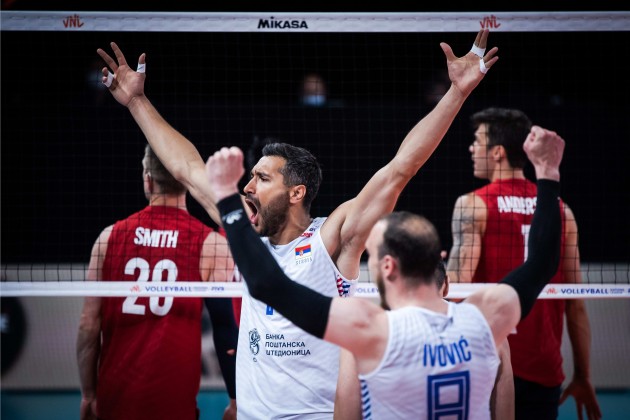 Thanks to a dominant game of Uroš Kovačević (22 points) and blocking of Marko Podraščanin (4), Serbia earned the third win a row in the 2021 Men's VNL. It beat the United States on the last day of the third week, coming one step closer to the ultimate goal, which is placement in the semifinals of the competition. The European champion showed oscillations only in the third set – 3-1 (25-23, 25-17, 19-25, 27-25).
Even though it had to deal with the powerful display of Nimir Abdel-Aziz (29 points, including 4 aces), Bulgaria managed to break its own losing streak of six matches and extend the one of the Netherlands to four games. Bulgarian teen sensation Denis Karyagin led his team to a win with 15 points.
In the world men's volleyball classic, which was also a duel of the two top-ranked sides in the VNL 2021, Brazil downed Poland – actually, it wrecked the rival: 3-0 (25-17, 28-26, 25-19). 'Seleção' recorded the fifth successive victory, improving to 8-1. Poland's run that consisted of five games came to an end. Wallace de Souza led Brazil with 18 points today.
2021 FIVB Men's Volleyball Nations League – Day 9 (Week 3):
Iran – Germany 2-3 (25-23, 20-25, 19-25, 25-19, 13-15)
Slovenia – Russia 3-2 (19-25, 25-23, 22-25, 25-20, 15-8)
Japan – Argentina 1-3 (32-30, 16-25, 18-25, 21-25)
Netherlands – Bulgaria 2-3 (18-25, 25-28, 25-17, 22-25, 13-15)
Australia – Italy 0-3 (20-25, 22-25, 14-25)
USA – Serbia 1-3 (23-25, 17-25, 25-19, 25-27)
Canada – France 1-3 (25-20, 21-25, 22-25, 17-25)
Poland – Brazil 0-3 (17-25, 26-28, 19-25)