Italy played a great game against favorite France at the closing of the fourth week of the 2021 FIVB Men's Volleyball Nations League.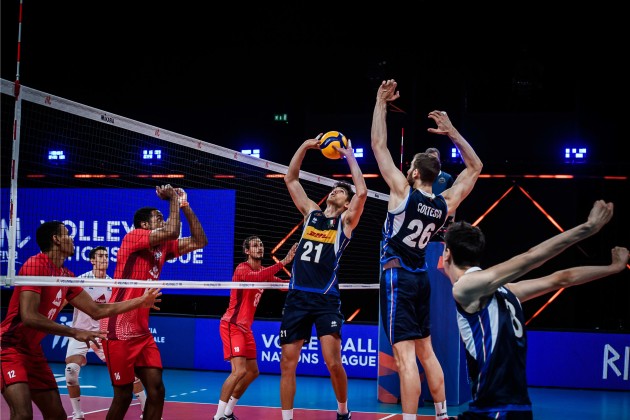 Italy deserved the tie-break victory against France, who was the favorite in a duel even though it played without Earvin Ngapeth, who remained in the stands. The young 'Azzurri' showed further signs of growth and held up against a team in the run for the Final Four, qualifying to which has become very complicated to it after this setback. Gabriele Nelli top-scored Italy with 21 points. Luca Spirito and Lorenzo Cortesia set up 4 blocks apiece.
Led by Klemen Čebulj (21 points), Slovenia scored three points against Iran (3-1: 14-25, 25-20, 25-19, 32-30) and jumped to third place in the charts. Defeats of Serbia and France went in the favor of EuroVolley runner-up after which it remained in a good position to progress to the final tournament.
The USA improved to 6-6 after prevailing in a five-set thriller against The Netherlands, who played without its top scorer Nimir Abdel-Aziz. The new VNL record holder got a day off. Taylor Sander (4 aces) and Garrett Muagututia tallied 21 points each for the United States.
Poland finished the fourth week of the tournament with all three victories and without losing a set. The latest victim of the world champion was Germany in a match in which Bartosz Kurek stood out on the winning side with 16 points.
FIVB Men's Volleyball Nations League, day 12:
Argentina – Serbia 3-0 (27-25, 25-20, 26-24)
Bulgaria – Russia 0-3 (17-25, 22-25, 17-25)
Japan – Canada 0-3 (22-25, 23-25, 18-25)
Australia – Brazil 0-3 (17-25, 22-25, 12-25)
Iran – Slovenia 1-3 (25-14, 20-25, 19-25, 30-32)
Netherlands – USA 2-3 (25-21, 17-25, 25-23, 15-25, 13-15)
France – Italy 2-3 (19-25, 25-22, 20-25, 25-21, 12-15)
Germany – Poland 0-3 (22-25, 19-25, 20-25)