The France National Team qualified for the Final Four of the 2021 FIVB Men's Volleyball Nations League with a win over Poland on the last day of the preliminary stage.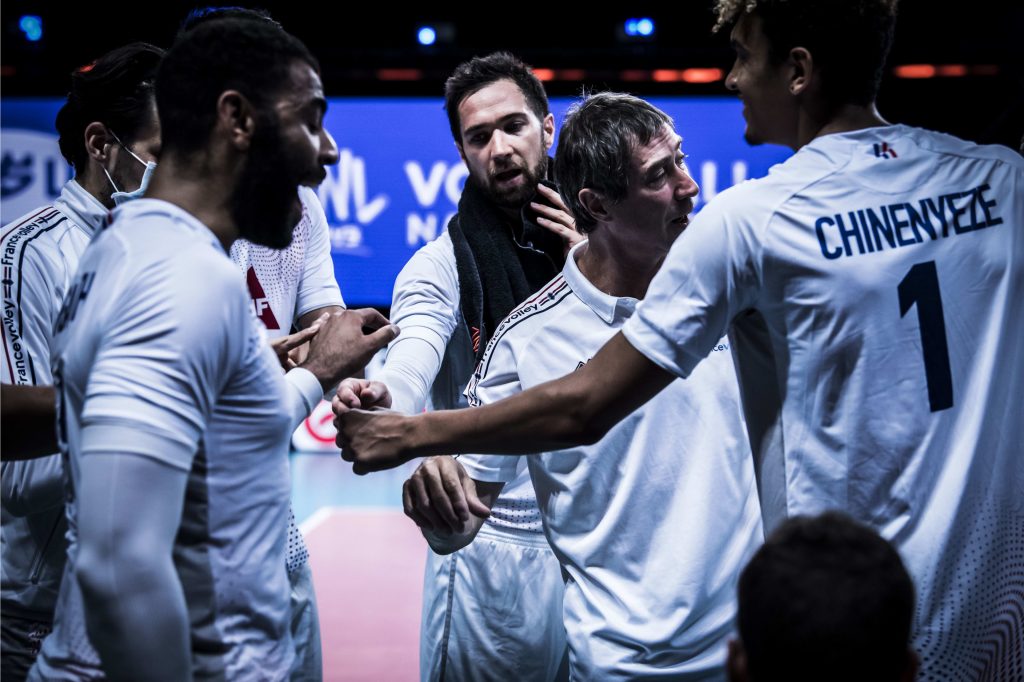 France beat the two-time defending world champion Poland by a 3-2 (25-22, 21-25, 22-25, 25-20, 15-11) to stay in the competition at the 2021 Men's VNL – more precisely, 'Les Bleus' advanced to the Final Four. Interestingly, Poland's head coach Vital Heynen confronted his best lineup (Kubiak, León, Kurek…) to France even though his team assured the ticket for the semifinals the day before. Laurent Tillie's wards trailed 1-2 in sets but never lost their calm. Earvin Ngapeth was France's top scorer tonight with 18 points. Jénia Grebennikov made 71.4 % digs (12/14).
Slovenia did its share and swept Bulgaria to achieve the 12th victory in the VNL 2021, which guaranteed it a spot in the Final Four. The EuroVolley vice-champion had everything in its hands given it faced one of the worst teams in the tournament, and it justified the role of the favorite without problems. Tonček Štern tallied 13 points on the winning side.
Russia's triumph against Brazil (the first team that secured a semifinal slot) was in vain given the outcome of France vs Poland. 'Zbornaya' tied with France at 11-4 and 34 points but the latter had a better set ratio. So, Russia, a two-time defending champion of the VNL (and only winner), said goodbye to the semifinals.
2021 FIVB Men's Volleyball Nations League – Day 15 (Week 5):
Australia – Netherlands 0-3 (23-25, 19-25, 19-25)
Canada – Serbia 3-2 (17-25, 21-25, 25-17, 25-20, 17-15)
USA – Japan 3-0 (25-21, 25-23, 25-20)
France – Poland 3-2 (25-22, 21-25, 22-25, 25-20, 15-11)
Iran – Argentina 1-3 (31-33, 23-25, 32-30, 18-25)
Slovenia – Bulgaria 3-0 (25-23, 25-16, 25-18)
Italy – Germany 3-2 (25-12, 24-26, 25-22, 21-25, 15-13)
Brazil – Russia 0-3 (21-25, 26-28, 20-25)