The USA's tie-break win over Turkey and Brazilian sweep of Japan closed Day 3 of the women's volleyball tournament at the 2020 Tokyo Olympic Games – group stage.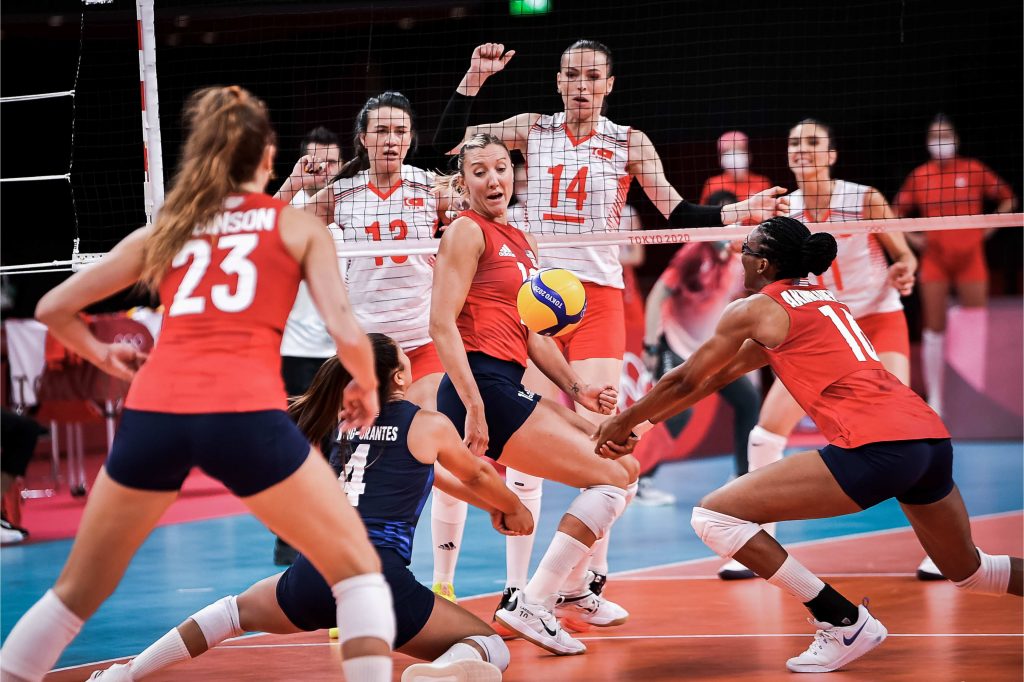 The United States recorded the third straight win at the 2020 Tokyo Olympics and lost its first set in the competition… actually, two. After the first two sets in which it played with a high level of confidence, the three-time FIVB Volleyball Nations League winner succumbed in the next two against Turkey. The team commanded by Giovanni Guidetti even had a couple of points of advantage in the tie-break but Karch Kiraly pulled an ace up his sleeve personified in Andrea Drews, who came in from the bench instead of Jordan Thompson and was a key player for the USA in the fifth set, notching the one-third of her team's points. However, Turkey earned a point which will mean a lot to it in the fight for the quarterfinals ahead of the last two rounds in Pool B.
Thompson was the top scorer on the winning side with 18 points. Foluke Akinradewo and Haleigh Washington made 5 blocks apiece. Jordan Larson had 82.6 % reception (19/23). Meryem Boz tallied 19 points for Turkey, while Zehra Güneş set up 4 blocks. Şeyma Ercan made 75.9 % reception (22/29).
Brazil had no difficulties to beat Japan (3-0: 25-16, 25-18, 26-24) and take its third victory in the Tokyo Olympics by which it joined Serbia as another undefeated side in Pool A. But the good news for 'Seleção' ends there. Its starting setter Macris Carneiro sprained her right ankle in the third set. She badly landed after a block and left the court crying. She was replaced by Roberta Ratzke but Brazil will be in serious trouble in case Macris is unable to continue the tournament.
Fernanda Rodrigues 'Fê Garay' (81 % reception; 17/21) and Ana Carolina Silva 'Carol' were the top scorers in the game, with 13 points apiece. The latter set up 6 blocks, the same as Caroline Gattaz 'Carol Gattaz'. Mayu Ishikawa scored 12 points for the host and made 76.5 % reception (14/17, 1 error).
2020 Tokyo Olympics, women's volleyball tournament – Day 3:
Italy – Argentina 3-0 (25-21, 25-16, 25-15)
South Korea – Dominican Republic 3-2 (25-20,17-25, 25-18, 15-25, 15-12)
Serbia – Kenya 3-0 (25-21, 25-11, 25-20)
China – ROC 2-3 (17-25, 25-23, 25-20, 25-27, 12-15)
Japan – Brazil 0-3 (16-25, 18-25, 24-26)
USA – Turkey 3-2 (25-19, 25-20, 17-25, 20-25, 15-12)