Unet E-Work Busto Arsizio took the provisional lead of the 2021/22 Italian Women's Volleyball Championship.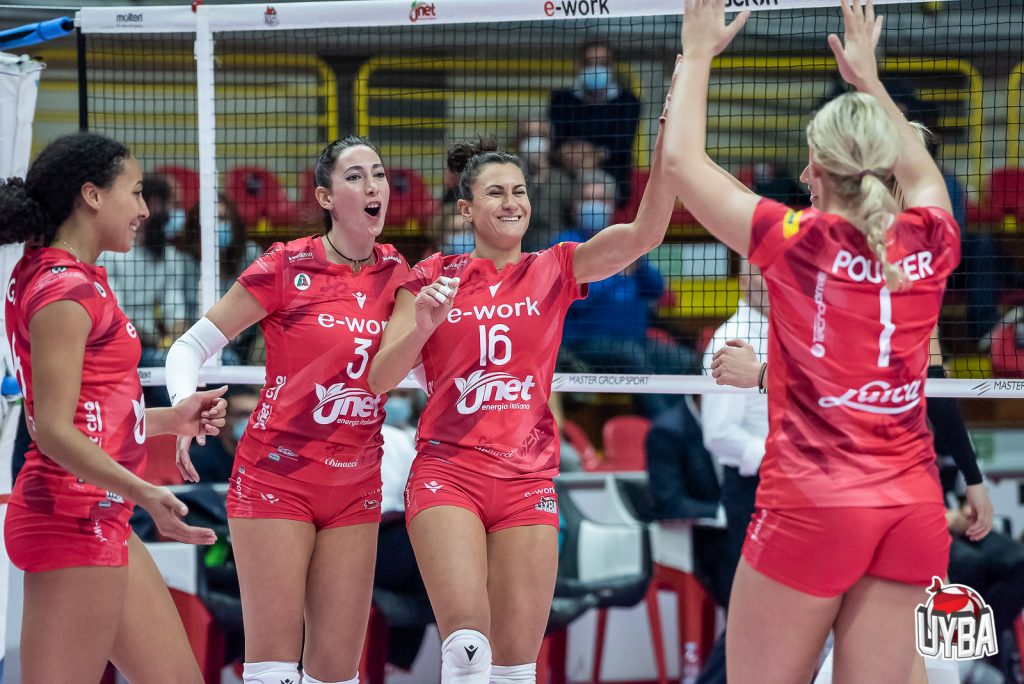 Unet E-Work Busto Arsizio prevailed over Bartoccini-Fortinfissi Perugia 3-0 (25-21, 25-15, 25-19) in the match of the midweek round (Round 3) of the 2021/22 Serie A1, giving themselves the third victory in as many games. So, at least for one night, while waiting for the outcome of the big match between Prosecco Doc Imoco Volley Conegliano and Igor Gorgonzola Novara (tomorrow), Busto will have the primacy in the standings with the maximum possible number of points. With 15 points, Camilla Mingardi was the top scorer of 'The Butterflies' today. Giorgia Zannoni made 75 % reception (12 digs, three errors, 33 % perfect).
Coming out of the abyss in the third set (3-10) against Reale Mutua Fenera Chieri, the newcomers to Serie A1, Megabox Ondulati Del Savio Vallefoglia, collected their first three points of the season. Furthermore, they managed to earn the first historic victory in the Italian topflight. The U.S. international Sonja Newcombe was Megabox's most efficient player with 15 points. Giada Cecchetto had 86 % reception (29 digs, two errors, 21 % perfect).
2021/22 Serie A1 – regular season, Round 3 (today's matches):