Three days after their away victory against Volley Bergamo, the girls from Monza came back to their Arena to face Igor Gorgonzola Novara on the 4th round of the Serie A1 femminile 2021-2022.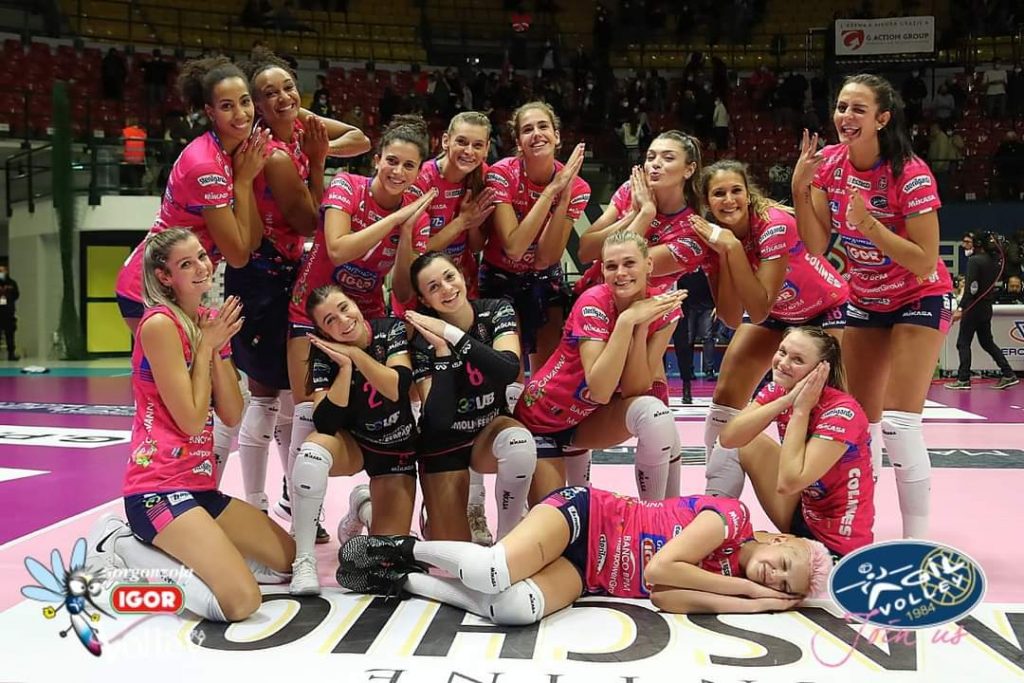 After a rough start for Monza, which began this season with a 3-1 defeat against Busto Arsizio, the Rosablù girls entered this match looking for their 3rd victory after beating Chieri and Bergamo on the last 2 rounds. While today's away team Novara started with two crashing 3-0 victories against Firenze and Casalmaggiore but stumbled upon the reigning champions Conegliano, that earned their 68th consecutive win last Thursday by beating Lavarini's team 3-0 at home.
The match started with a minute of silence in memory of Mahjabin Hakimi a member of the Afghanistan women's youth volleyball team that was killed this past week by the Taliban in the country's capital of Kabul because of its objection to women's sport.
The first set was a full rollercoaster of emotions after just 3 points Monza's opposite Stysiak received a red card for fighting with the referee, the away team took advantage of the tense moment and took full control of the situation with a 9 point lead but the match started heating up and after a fantastic team effort and a great service streak of their middle blocker Sonia Candi the girls from Monza evened things and after 45 minutes they took the set with a fantastic score of 35-33.
The second set was a thrilling one full of very long rallies played point by point, great blocking skills shown by Novara. An amazing 100% attacking proficiency by Monza's middle blocker Zakachaiou was not enough, and with 7 points by their opposite Ebrar Karakurt the away team took the second set by 25-22.
Third set Novara had things under full control and with another great 9 points by their opposite Karakurt and an ace by her to close the set they took the set 25-18 and gained a 2-1 set lead.
Fourth set Monza began confident and started with a good 13-8 lead, Lavarini decided to change Herbots for Bosetti to help his team even things but Sonia Candi again with a great service streak gave Monza a wider lead of 20-15 and the home team finally took the set by 25-20.
Tie-break was all Novara and lasted just 13 minutes the away team took the victory by with a crushing 15-4 score with a stunning performance by Karakurt who scored 29 points and Daalderop with 16 points, Monza top scorers were Magda Stysiak with 19 points, Alessia Gennari with 18 and Katarina Lazovic with 14 points.
FULL SQUAD– VERO VOLLEY MONZA
Setters: Alessia Orro (5), Jennifer Boldini
Middle-Blockers: Anna Danesi (9), Katerina Zakchaiou (8), Sonia Candi (1), Gaia Moretto
Spikers: Katarina Lazovic (14), Magdalena Stysiak (19), Alessia Gennari (18), Lise Van Hecke (3), Brankica Mihajlovic (1), Anna Davyskiba
Libero: Beatrice Parrocchiale, Beatrice Negretti
Coach: Marco Gaspari
FULL SQUAD– IGOR GORGONZOLA NOVARA
Setters: Micha Hancock (5), Illaria Battistoni
Middle-Blockers: Cristina Chirichella (12), Sara Bonifacio (2), Haleigh Washington (3), Veronica Costantini
Spikers: Nika Daalderop (16), Sofia D'Odorico (1), Caterina Bosetti (11), Britt Herbots (1), Ebrar Karakurt (29), Rosamaria Montibeller (4)
Libero: Eleonora Fersino, Lucia Imperiali
Coach: Stefano Lavarini
Reale Mutua Fenera Chieri stunned Unet E-Work Busto Arsizio. The latter are no longer undefeated in the league. The match was much closer than the final 3-0 might suggest, but that will hardly be a consolation to 'The Butterflies' which suffered their first defeat of the season. American Alexandra Frantti notched 16 points for Chieri.
Prosecco Doc Imoco Volley Conegliano don't intend to take a break and noted the success No.69 to a truly terrifying series, doing so on the court of the combative Vbc Trasporti Pesanti Casalmaggiore. 'The Panthers' won despite the absences of De Gennaro, Sylla, Fahr, Plummer, and Hill. Loveth Omoruyi was the top scorer for Imoco with 14 points, adding 80% reception (10 digs, 70% perfect) to her performance.
Volley Bergamo 1991 achieved their inaugural triumph in the competition. The U.S. international Khalia Lanier stood out for the eight-time Italian club champions in the win over Megabox Ondulati Del Savio Vallefoglia with 22 points.
2021/22 Serie A1 – regular season, Round 4 (today's matches):
Bergamo – Vallefoglia 3-1 (27-25, 25-19, 22-25, 25-16)
Casalmaggiore – Imoco Volley 0-3 (15-25, 23-25, 23-25)
Chieri 76 – UYBA 3-0 (25-20, 25-19, 26-24)
Scandicci – Trentino 3-0 (25-22, 25-20, 25-19)
Monza – Novara 2-3 (35-33, 22-25, 18-25, 25-20, 4-15)
AUTHOR: Lucia M. Lecouna

Sports Data Scout and Journalist
A former student of Communication and Media at the IULM University, sports journalist that focuses on Football, Volleyball and Basketball. 

https://www.linkedin.com/in/lucia-l-914710139
Contact mail: lulile(at)gmail.com