In the final of the 2021 NCAA Division I Women's Volleyball Championship, No. 4 Wisconsin will face No. 10 Nebraska at Nationwide Arena in Columbus, Ohio, in what is going to be an all-Big Ten title game.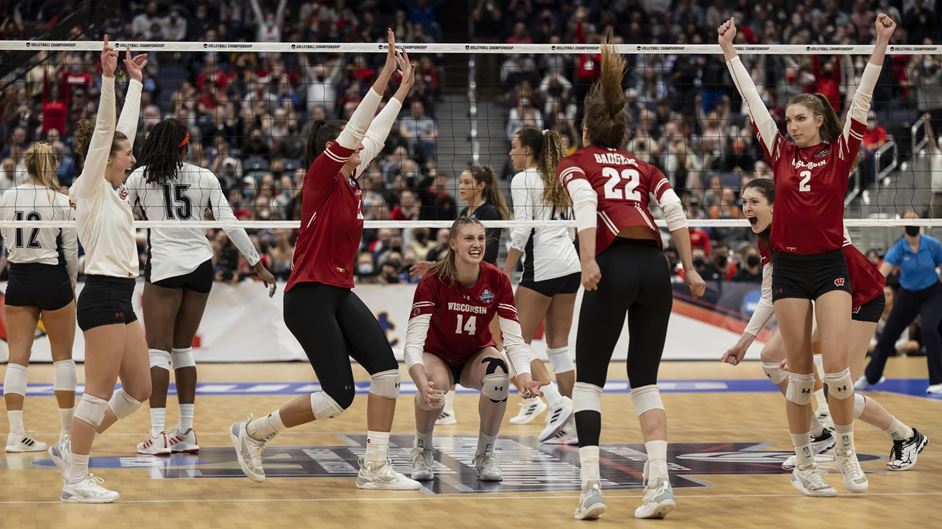 By defeating No. 1 and previously unbeaten Louisville (18-0 in ACC; 31-0 overall prior to the semi-final), the No.4 Wisconsin (now at 17-3 Big Ten and 30-3), advanced to their second NCAA Division I Women's Volleyball Championship final in three seasons. This semi-final matchup featured two of the country's greatest teams at the moment which surprisingly ended with the Badgers prevailing over the Cardinals after an enthralling back-and-forth battle 3-2 (25-23, 15-25, 25-21, 23-25, 15-9).
Freshman middle blocker from Canada Anna Smrek top-scored Wisconsin with 23 points, but an astonishing blocking display of the graduate Dana Rettke (named AVCA National Player of the Year) of eight blocks must be stressed.
The 10th-seeded Nebraska (15-4 Big Ten, 26-7 overall) are vying for their sixth national championship in its 10th NCAA title match appearance, first since 2018. The Cornhuskers downed No. 3 Pittsburgh (15-3 ACC; 30-4) in the other semi-final in Columbus but only after being wrecked in the first set. However, the team coached by John Cook overcame a strong first set by the Panthers and defeated the ACC runners-up 3-1 (16-25, 25-17, 25-20, 25-22).
Junior outside hitter Madi Kubik was Nebraska's top scorer with 18 points. Senior middle blocker Lauren Stivrins set up six blocks.
The 2021 NCAA Final is a rematch of the national championship match from 2000, in which Nebraska downed Wisconsin in five sets in the last season of side-out scoring in college volleyball.
2021 NCAA Division I Women's Volleyball Championship – semi-finals:
Wisconsin – Louisville 3-2 (25-23, 15-25, 25-21, 23-25, 15-9)
Nebraska – Pittsburgh 3-1 (16-25, 25-17, 25-20, 25-22)